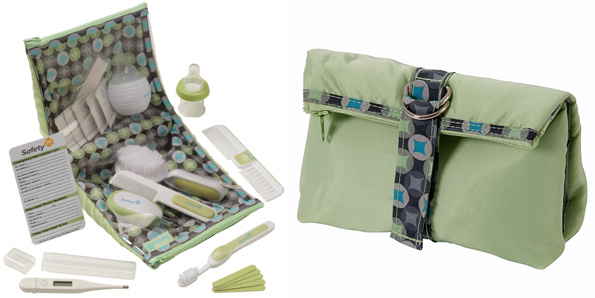 I spotted this item in the movers and shakers on Amazon.ca, and I think it's a super little item for newborn babies so I had to share! The green Safety 1st Deluxe Healthcare and Grooming Kit was originally priced at $39.99, but just now, it's only $25.97 and that comes with free shipping, of course, as it is sold by Amazon.ca themselves (not a marketplace seller).
The deluxe kit comes with many items which are very handy. It doesn't list all of them on the Amazon site, but I grabbed this list from the same item on Toys R Us:
Cradle Cap comb, Gentle Care comb, Gentle Care brush, Clear Tip aspirator, Steady Grip nail clippers, Bottle Medicine dispenser, Digital Thermometer, Probe covers (5), Deluxe Wrapping clutch case.
Elsewhere, this Safety kit is priced around $40 from most other stores. However, I will state that it's the same price online at Walmart – Amazon and Walmart have been aggressively matching prices this last while! That's good news for us. However, the Amazon deal is actually better as it comes with free shipping (that would cost you an additional five bucks from Walmart if you ordered this kit alone).
Because this kit is in the green finish – I think that's quite a neutral colour and you shouldn't have to worry about whether you're gifting this to a boy or a girl. I don't think I am in the minority, buy I don't like everything for my girls to actually be bright pink. I do prefer the muted tones and non-gender specific colourings in things like this.
When I had my first baby, I bought a very similar kit to this one though I think it was a Tommee Tippee brand. While my kit was a lot smaller, it had the main things that I needed such as little nail clippers and a soft hair brush. I found the soft hairbrush was particularly useful in dealing with some cradle cap which developed on my daughter a few months down the line.
If you're expecting a baby soon or know someone who is, this type of kit is extremely handy to have in the home.
(Expires: unknown)