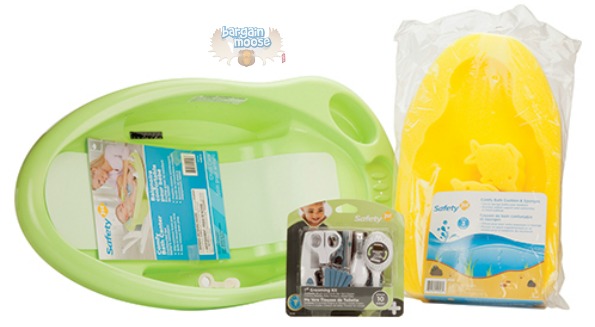 Here is a little bath set that every new mom needs. Check out the Safety 1st Bath Time Bundle that was $44.99 but is now only $24.99. This perfect little bundle is a greater starter set for a new mom, or for the experienced mom to have everything together in one place.
Babies need a lot of gear in the beginning, and this little set perfectly combines many of the basics you need for bath time. Check out this set I found that is a perfect baby gift for that upcoming shower you are attending. Included in this kit is:
Comfy bath centre tub made of molded plastic
Comfy bath infant cushion
Grooming kit
Zippered carrying bag for travel
The tub on this kit is a hard plastic tub, which I found more convenient as my daughter got a little bigger. Included is a foam cushion to make the tub more comfortable for your baby when they are in the newborn stage. This tub fits most standard sinks, so you can choose whether to bathe your kiddo in the tub or sink depending on what is available. The bath also has a temperature strip included that can help you ensure the water is at just the right temperature for your babies sensitive skin. The grooming kit includes nail clippers, a soft baby brush and comb, round tip scissors and several emery boards. That gives you several nail trimming options for a job that can sometimes be difficult. I still cut my daughter's nails with the round tip scissors, though my husband prefers the clippers.
At Toys R Us Canada, a plastic tub for babies by itself costs $27.99 with no included extras such as the cushion for newborns or the grooming kit. At Shop.ca, a Safety First bathtub with an infant sling that functions similarly to the infant cushion is $44.99 and does not include the grooming kit. At Sears.ca, I found a Safety First Complete Care Bath kit that includes a newborn sling, bathtub, rinse cup and a sponge that clocks in at $54.99.
To qualify for free shipping at $25, you will need a small filler item. I would pick up the Munchkin Float and Stack Buddies that was $6.99 but is on sale for $1.99. A cute little toy like this in the bath will add a little fun to your bath time gift set. Otherwise shipping is $16.99, yikes! Spend the extra two bucks and pick up the bath toy for a much better deal.
(Expiry: 9th July 2015)