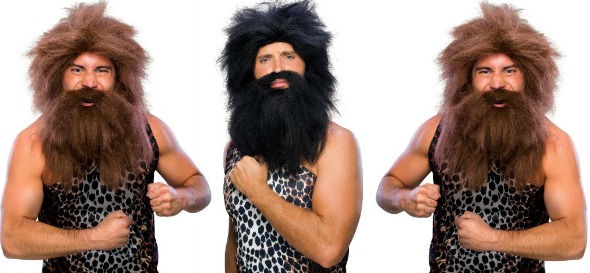 You still have time to get a Halloween costume, even if you order online at Amazon.ca. If you are still on the hunt for a perfect outfit this year, then check out this Rubie's Cavement Beard and Wig Set which was originally priced at $16.99 and is now just $7.94. Spend $25 to get free shipping, unless you have Amazon Prime. Amazon Prime members get free shipping.
Ah. Bargainmoose find deal! Make caveman happy. This Rubie's Costume Cavemen Beard and Wig Set looks awesome. It comes in two colours, black and brown. The brown beard set is $7.94 and the black beard set is $9.95, so both prices are pretty reasonable considering the original price was $16.99. This will help women complete their costume as a lumberjack, or help men complete their costume as a caveman.
This purchase comes in two pieces - the wig and the beard. So if you only want to wear one you can. From reading the reviews I can tell you that you should store this item laying flat for next year. Otherwise the piece will get bent out of shape and look funny when you put it on to be a caveman again.The Rubie's Costume Beard and Wig Set is one size fits all, but there is a sizing chart available to make sure it will fit you properly.
Actually one review says that this piece even worked wonderfully for a gag photo shoot. That same review says you may want to trim the moustache part of the beard if you are planning on eating while wearing it. The wife and kids might even get a kick out of wearing it. I wonder if wearing a wig and beard all day would be itchy? What do you think?
This item is shipped and sold by Amazon Canada, which means you will get free shipping if you spend $25 or more. Amazon Prime members will luck out and get free shipping anyway. If you order now,  you will probably receive it in time for Halloween too - which is pretty nifty if you ask me.
(Expiry: Unknown)