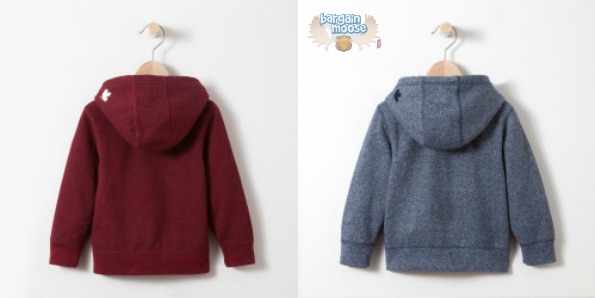 Roots has got a hot coupon code out right now that will give you an extra 20% off all sale items. Use PSSTSALE20 to get your discount. On top of this, they've got free shipping with no minimum too! I found this kid's full zip hoody that was originally $36, on sale for $26.88, but I added the coupon code to it and got it for only $21.50.
Usually I try not to spent a large amount on my kid's clothes, but when it comes to staples like jackets, pants, hoodies and shoes and boots, I will pay for quality. Roots is well-known for their sweaters. No doubt about, Roots sweaters are classic, comfortable and durable on top of looking good. With the cool summer nights ahead, hopefully roasting marshmallows by the fire, my kids are going to need a warm hoody to throw on and this one from Roots will do just perfectly. The one I linked to above is actually the toddler size, with sizes 3T, 4T and 5T. What's also great about getting brand name clothing like this at a discount is that if you keep it in good condition, used kid's clothing stores will give you quite a bit for it when you decide to sell it.
There is lodge red pepper or cascade blue pepper and both are quite nice. I do like the blue as it looks like it pairs well nicely with most other clothing. I also like the pockets at the front, as often my kids will get upset that they have cold hands and now they won't!
This coupon is valid on all sale items, including women's and men's as well, not just on kids.
When I shop for my kids, I try not to forget that I like new clothing too and these Wyldewood cropped pants are so perfect for me. I love a cropped style and these look mega comfortable. Regularly $50 and on sale for $39.99, add the coupon code and watch the price drop down to $31.99.
While they do have free shipping, no minimum, I feel like filling up my cart anyway, as there are so many good deals. You can stop at one item or shop to your heart's content and not have to worry about extra charges on top.
(Expiry: Unknown)