I've just had an email from Roots.ca to tell me about a free shipping promo which is on for Easter weekend! Between the 10th and the 13th of April 2009, all orders will receive free shipping. You don't have to make any minimum purchase either, free shipping works on anything!
If you happen to be spending $125 or more, be sure to enter the promo code POUCH or KIT in your shopping cart to get yourself a free leather gift!!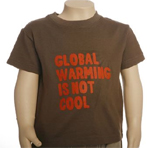 Let me see if there are any nice little bargains:
There are a load of baby tees on a 2 for $24 promotion. You can see them by clicking "kids & baby" at the top, then click the baby tees banner that appears. There are some pretty cute examples on offer, such as the "global warming is not cool" t-shirt pictured to the right!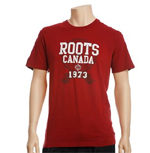 All tees are already 20% off! Prices seem to start about $19.99 for their basic ladies tees, and $26 for the guys. The tee pictured to the left is the "roots seal tee" for guys, priced at $26. I think it's quite nice. All guys and ladies polos are also priced at only $29 each.
Remember that you can use DealGuild Canada for an extra 3.25% free cashback.