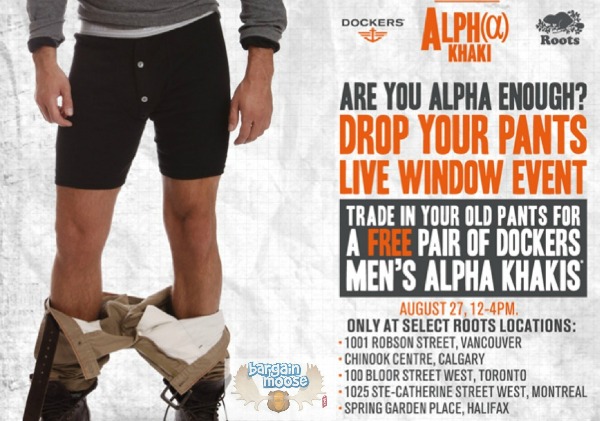 At select Roots locations on 27th August, 2011 from 12-4pm, bring in a pair of your old pants and trade them in for a free pair of Dockers Men's Alpha Khakis.
Select locations for this promotion are:
1001 Robson St., Vancouver; Chinook Centre, Calgary; 100 Bloor St. West, Toronto; 1025 Ste-Catherine St. West, Montreal; and Spring Garden Place, Halifax.
Traded pants will be donated to charity as selected by Roots. Roots has the right to substitute pants for a similar style and/or value. Only one pair per person. While supplies last. For additional limitations please ask in-store on event day.
The Alpha Khaki's are supposed to feel like jeans but look like khakis. No price on the Canadian site, but they look to be $68 US.
New pants and helping to clothe others, what a great idea!