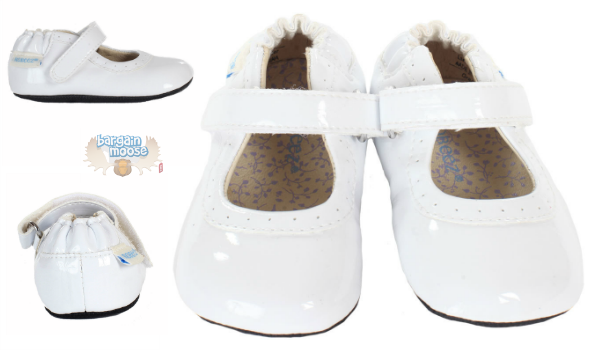 Pick up a sweet pair of Robeez Gracie White Mini Shoez for the little one in your life. These shoes were $36 but are now only $19.79. Apply a unique coupon code by following Robeez on social media or joining the e-mail list and save an extra 10%. Free shipping with no minimum is included for a limited time for the month of March with no promo code.
Are you looking for a sweet pair of baby shoes for spring? These white shiny Mary Janes will be perfect on your baby for any spring party, Easter event or to attend a wedding.
Robeez shoes have been around the baby circle for a while as a top product. Their soft bottomed shoes have been dubbed perfect for babies, pre-walkers and toddlers. The soft leather bottom allows children to grip the ground a little more as they walk and learn to balance. These shoes sure are as cute as they are functional. A pair like this would be perfect for a special occasion. The top of the shoe has a Velcro adjustable strap to keep them on your baby's feet. These precious shoes look just like real Mary Janes! This pair is currently available in sizes 3-6 months, 6-9 months and 18-24 months.
Price comparing is not easy, as this pair of shoes is not sold many places right now. I found this same style shoe in black on Shoeme.ca for $29.95. I found these at a boutique shop called Enfant style for $23.35 but you will pay for shipping and sizing is only available in 3-6 months or 6-9 months sizes. A few other lesser known boutiques have these shoes online. I found that at the boutiques sizing is very limited, the price point is hitting around $25-$30 and you will pay for shipping.
In order to get the extra 10% off you will need to sign up for their mailing list. You may notice a baby that pops up on the right hand side of the screen when you go to Robeez website. Click the baby to generate your code. You can choose to sign up via e-mail, Facebook, Twitter or Instagram and a coupon code for 10% off will be automatically generated. Here is what the screen looks like to sign up and receive your code.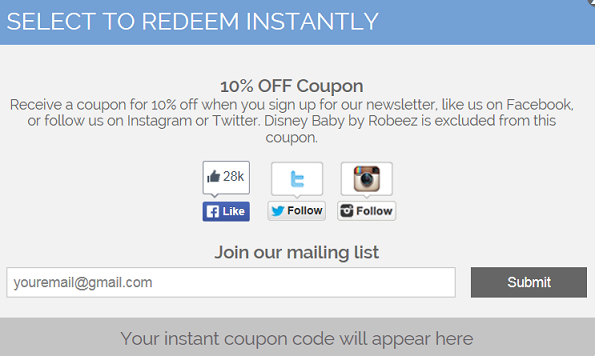 Once you add the shoes and the code to your bag, the discounts are starting to look pretty good on these shoes. Here is what my cart currently looks like. The free shipping comes off automatically, no code needed.

While the free shipping will last all month, I do not expect that these shoes will last very long. They are perfect for spring and the upcoming holiday. Grab your pair before they are gone.
(Expiry: 31 March 2015)