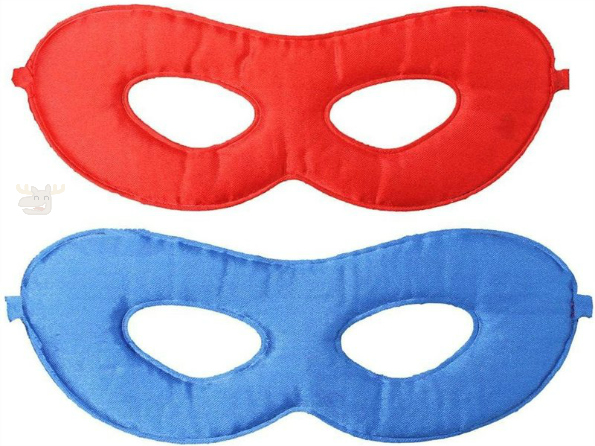 Halloween is coming and the costume box always needs restocking! Pick up a Reversible Adventure Eyemask by Great Pretenders for just $2.95 each at chapters Indigo! Receive free shipping on any order till end of day today. There is a minimum order quantity of two masks per order.
These reversible masks have you covered when it comes to saving the world in style. Hide your secret identity with the reversible eye mask that is blue on one side and red on the other. Blue and Red cover two of the main superhero colours and will have your child fighting crime in style. This mask is not your standard flimsy eye mask. Rather, the mask comes padded for comfort so your child can spend hours as their ultra-ego without having to ever remove their mask. The mask is designed for children ages three to eight but fit is pretty lenient because it uses a stretchy elastic around the back of the head.
Now, there is a minimum order of two masks but that should not be a problem in a two-kid household. Even if you have just one child, the second mask can be kept as backup in case the string breaks. Also, these are awesome for stuffing in loot bags for birthday parties, sleepovers, and whatnot. Given that Christmas is only a few short months away; I figured these would be great for stuffing in your children's stockings. While stocking stuffers can be very kitschy, I like the ones that will get used and enjoyed. I know these masks would probably get used so much it will probably.
I like that these masks are not a 'China brand', yet they are still fairly inexpensive. The padding inside is a thoughtful touch and the reversibility increases play options. It sort of makes the mask a two-in-one sort of toy. As free shipping ends tonight, I recommend picking up these masks pronto.
(Expiry: 1st October 2015)