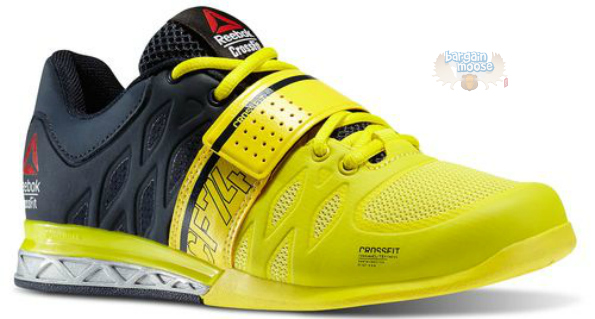 As Eva previously mentioned, Reebok is offering an extra 25% off all items in their clearance section. I was browsing through the store looking for a new sports bra or a new pair of shoes. I found a fantastic deal on these Women's Reebok CrossFit 2014 Games Lifter 2.0 shoes from Reebok. Originally $160, they are now on sale for $80. With the additional 25% off at checkout, the shoes come down to $60 with free shipping. You save $100.
This offer is only available in the yellow colour: none of the other colours are discounted as substantially. That is just fine with me because the Reebok navy and yellow colour combination work so well together. It is like the shoe is cut into two with the navy in the back and the yellow front. There are silver accents throughout the shoe.
The shoe both laces up and has a hook and loop strap for extra security across the bridge of the foot. This strap enhances shoe stability. The breathable mesh toe keeps your foot well ventilated. Enjoy the lightweight 3D fuse frame construction for an ultra-light weight shoe while maintaining durability. The flexible platform gives ample toe spring for CrossFit movements. With a flexible grooved outsole, you will receive excellent traction on many different types of terrain.
The interior features anti-friction lining to reduce moisture and heat, thus reducing blisters. The interior combined with the mesh toe help keep your feet dry and cool. This is not only an excellent athletic shoe - designed for weight lifting - it is a good everyday shoe for running around (though not athletic running). There is no need to subject your feet to the heat and sweat of a pair of synthetic non-breathable runners when you can pick up a quality pair of Reebok shoes for around the same price.
One reviewer said:
This shoe allowed me the mobility, flexibility and support I was looking for. Other shoes I have worn were uncomfortable while lifting for my ankles but this shoe allows for form and support without the uncomfortably in the ankle.
Currently, these shoes are available in sizes 5.5 through 10 with almost all half-sizes available as well. With the size availability, the excellent price, and the free shipping (as these shoes cost over $50), I figured this was an excellent deal.
(Expiry: 4th August 2015)