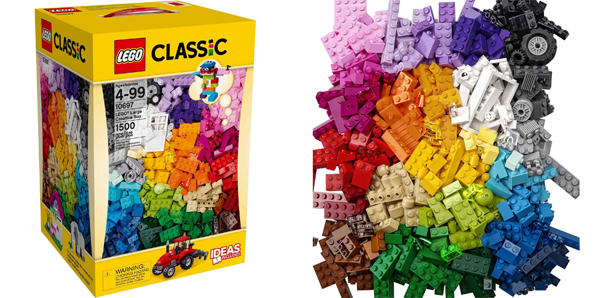 I've just done a post here to tell you about the Pre-Black Friday sale which has just started online at Walmart Canada. Well, in writing that post, I left one item out because I was just so excited about it and wanted to write it up into a blog post of its very own – this is a deal on the LEGO Large Creative Box (10697). This amazing set of LEGO can be yours for only $40 from Walmart.ca now!!
QUICK QUICK QUICK! I don't think this deal will last for very long.
Walmart don't state a WAS and NOW price on this, so I am not going to tell you there's a specific percentage discount. However, the exact same set of LEGO is $59 on Amazon.ca right now!! I can't see it for sale at Toys R Us, but a very similar box will set you back about $60 there. The $40 price point from Walmart is really excellent – and this is a perfect gift to buy now and put away for Christmas.
Here's my advice in a few words: BUY NOW THINK LATER!
Shipping would be free on online orders of $50 or more - so I'd recommend buying more than just this LEGO. :) Alternatively, you can collect at your local store for free.
(Expires: unknown)
UPDATE  - the LEGO Duplo is also on offer here for $40 - better if you have a toddler!