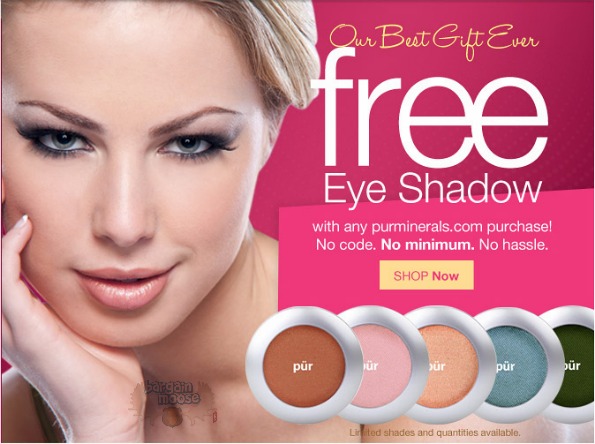 Purminerals Canada is giving away a free eye shadow with every purchase. No minimum or code required. There are limited shades and quantities available. Shade is to be chosen at checkout.
I like to check the deals first like these $10 steals. The Mineral Lip Tint SPF-15 Ruby Sunset was $16.50 and is now $10. This just happens to be one of my favourite shades. To go with that, I would also like this Sketch Set for Lips 3-pc kit that was $16.50 and now $10. You can never have enough lip pencils and this kit comes with Toasted Garnet, Ruby and Spiced Amber.
The kits are sometimes a good bargain. This Pur Minerals 5-pc New Start now kit is a value of $95 for only $39 and includes 4 in 1 pressed makeup, neutral primer, mineral glow, Impact mascara and a chisel brush. This purchase also helps support Go For Red Women.
I'm not entirely convinced about foundations purchased online. I like to actually try the shade first. There are quite a few comments stating that the shades seem to work depending on skin tones. I tend to agree with most of them, that the 4 in 1 pressed mineral makeup foundation split pan would be the safest way to go. This is $26 and provides you with 2 makeup foundation shades so you can customize your own shade by blending.
As far as skin care products, I haven't tried these, so I can't really give any advice, but this Mineral Wash for $17, intrigues me. This is apparently good for face, body and hair. Now if that's true, I will save a lot of money on different products.
Shipping: Free on orders over $50, otherwise $7.95 US dollars.
(Expiry: 31st August 2012)