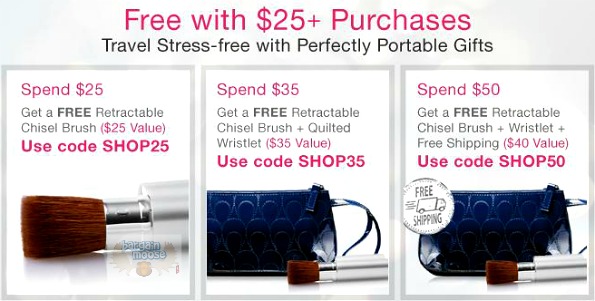 Pur Minerals is not only offering free shipping with no minimum right now, but they also have 3 great coupon codes for free gifts to take advantage of.
Here are the details for the coupon codes for a free gift:
Coupon code: SHOP25
Discount: Free retractable chisel brush with purchase over $25 ($25 value)
Expiry: Unknown
Coupon code: SHOP35
Discount: Free Chisel brush and wristlet with purchase over $35 ($35 value)
Expiry: Unknown
Coupon code: SHOP50
Discount: Free chisel brush, wristlet and free shipping with purchase over $50 ($40 value)
Expiry: Unknown
If you were going to be shopping at Pur Minerals anyways make sure you enter one of the coupon codes at the checkout for your free gift. They have really great products to begin with and it is always nice to get a free gift! Don't forget to check out the Boxing Day sales!