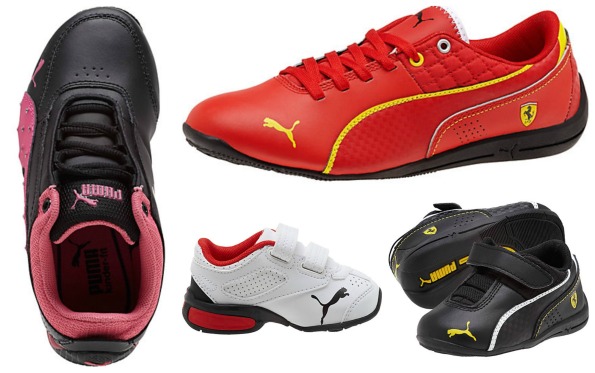 Puma Canada has a nice offer if you are looking to get some new footwear for your kiddos. You can buy them now and hold onto them until spring, or give them as a Christmas gift even. These are some high quality shoes for super prices. You can take up to 70% off the original price of Puma Kids' shoes and pay as little as $19.99 USD. Puma Canada also has totally free shipping with no minimum purchase right now, which just sweetens the deal.
This Kids' Flash Sale does not only include shoes, but that is where the best discounts are. You can also snag jackets, tops and bottoms for up to 50% off through the same link at Puma Canada. Personally, I love the Puma kids' footwear. My son has had a few pairs of Puma shoes and the only reason we move on from them is because he outgrows them. They keep a good appearance for quite a while too. I really have no complaints about their kids' footwear. This kids' flash sale is valid today only, and stock may not last long. So start your engines and let's get shopping.
The Ferrari Drift Cat 6 JR Shoes are always popular. They come in three colour schemes: black/white/yellow, red/yellow/black and white/black/red. The most common I see would have to be the red combination. These shoes were originally $65 and are now $24.99 USD ($34.34 CDN). They have the same model shoes for younger kids instead, and they are just $19.99 USD ($27.47 CDN)
There are a few girly pairs of Puma shoes as well, which is always fun. I really like the Drift Cat IV DIamonds JR Sneakers which are on sale from $62 down to $24.99 USD ($34.34 CDN). They come in pink and white or black and pink. If these came in my size, I would wear them.
There are T-shirts and such for kids starting as low as $6.40 USD ($8.80 CDN) if you are not only wanting shoes. A t-shirt or hoodie would be a great Christmas gift if you have nieces or nephews. Sometimes it is hard to know what size other people's kids are in footwear, but tops are simple enough to guess. Puma Canada also has free shipping with no minimum purchase. Keep in mind that all prices are in USD. The flash sale is only valid today, but the free shipping is here to stay until Christmas day.
(Expiry: 14th December 2015)