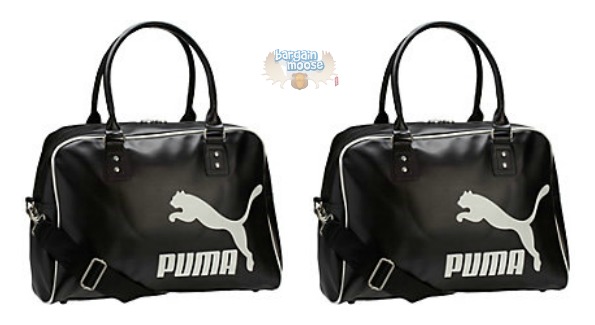 If you need a workout bag, overnight bag or all-around stylish bag to get your stuff from A to B, I've found a killer deal at Puma. Get the Heritage Grip bag right now for only $38.40USD, with a regular price of $91! It will also ship to you absolutely free.
This gorgeous all-purpose bag is made of synthetic leather and has the iconic Puma logo across the side. It measures 18" L x 5.5" W x 14" H. That's a nice size bag for all of your gear going to the gym, or a weekend away with the girlfriend (or boyfriend).
It has top-zip closure with an adjustable shoulder strap so you can wear it any which way you'd like. There is even a fleece-lined laptop compartment, so this would be great as a carry-on bag for business trips. Fleece-lined interior pockets protect all of your other electronics, like your cell phone, chargers and iPods. There is also an internal zip pocket so everything is stowed away safely inside.
When you click the link above, you'll actually see the price of $64. This is because I also have an additional coupon code of 40% off that you can add to your purchase. Use coupon codeS4SPUMA14 with this or any other item on the Puma site to get your 40% off and free shipping.
Just to give you an idea of what this bag will cost you elsewhere, eBay is selling it for $60USD.
While Puma is a U.S. store and does ship from the U.S., they do this wonderful thing and pay all the duties and customs fees themselves, so you don't have any nasty surprises at checkout or at your door. Basically, what you see is what you get and you'll pay around $40 for this bag once you've converted it to Canadian.
(expiry: 11th November 2014)