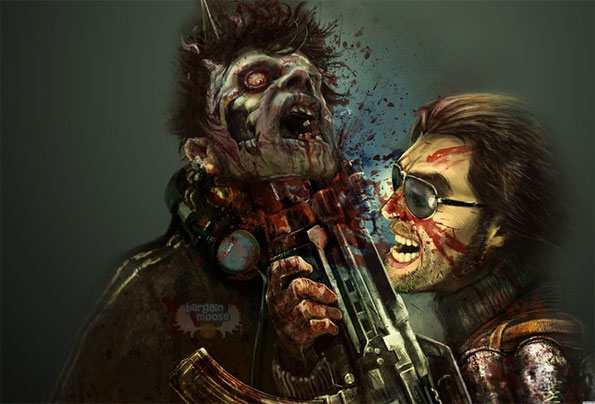 Got nothing to do this weekend? Then bust out your PlayStation console and head on over to the PlayStation Network, where you can get plenty of games for under $1... or slightly over.
Okay so the image above isn't exactly for the faint of heart and I'm kind of cheating in mentioning it but then again, the Sony PlayStation Network cheated as well.
Although, speaking of faint of heart, if you like Cards Against Humanity, did you know that you can now play it online with Cards Against Originality? Make sure to read the blog post I wrote on it a couple of days ago.
There are plenty of deals under $1 to take advantage of but the game in the image above, which is Dead Nation Apocalypse Edition is on sale for $1.65 (reg. $14.99). Forgive me for the $0.65 difference! :P
I'm mentioning it because it's actually a pretty amazing deal for a game that was originally priced at nearly $15 and is now a whopping 89% off. Plus, any game that is that cheap for the PS4 is definitely pretty awesome, especially considering the fact that Dead Nation has over 38,000 reviews with a total 4/5 stars.
It's your typical zombie game with the main difference being that the two main characters are, for some unknown reason, immune to the zombie disease despite getting bit and scratched repeatedly. Since it's a PS4 game, you can expect the gameplay to being stunning, especially as evidenced by this review from PS4 Experts:
Dead Nation: Apocalypse edition is the premier version of Housemarque's solid arcade shooter. For some, the gameplay may be addictive and unforgettable, while others may find it repetitive and bland. I myself found it to be a mixture of the two and enjoyed my time with it. That being said, the upgraded graphics and included DLC do provide a lot of extra gameplay to delve into. I do also enjoy the support for local co-op.
Games that you can truly get for under $1 include but are not limited to:
PS3 - 94% off Tokyo Jungle: reg. $14.99/ now $0.90
PS4 - 93% off Surgeon Simulator: reg. $12.99/ now $0.91
PS4 - 81% off Home - A Unique Horror Adventure: reg. $4.99/ now $0.95
PS3 - 81% off Bejeweled 3: reg. $4.99/ now $0.95
PSP/ PS Vita - 81% off Beta Bloc: reg. $4.99/ now $0.95
PS3/PSP/PS Vita - 84% off Extreme Pinball: reg. $5.99/ now $0.96
PS3 - 63% off Who Wants To Be A Movie Millionaire: reg. $2.99/ now $0.99
Have fun!
(Expiry: 23rd March 2015 @ 2pm ET)