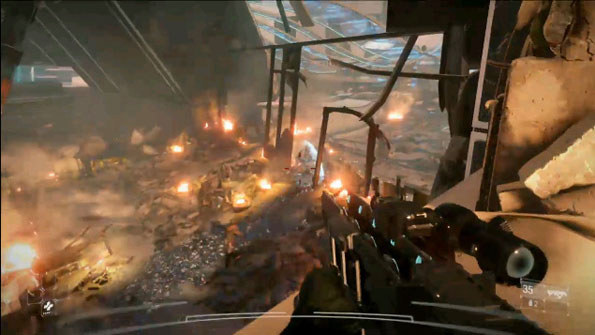 Hurry on over to Amazon because while supplies last (or whenever they decide to end the promotion), you can get Killzone: Shadowfall for just $19.94, which is 67% off the original price!
Considering that this is a PlayStation 4 game and one that was released relatively recently (November 15th 2014), this is an incredible deal. Price comparing this deal, the cheapest I have found it anywhere else is at Best Buy and Future Shop, where it's on sale for $29.99.
Killzone: Shadow Fall is very similar to Call of Duty in that it is a first-person shooter game but it differs in the story line as it focuses on the missions of Lucas Kellan, a "Shadow Marshall" who finds himself in the middle of war. The game can also be played either as single-player or multi-player with others online.
Reviews for this game are also generally favourable, with GameSpot rating it 7 out of 10. In fact, here's what GameSpot's Kevin VanOrd had to say about it:
As much as I enjoyed my online time with Killzone: Shadow Fall--and as much as I will enjoy lots more time with it, unlocking perks that allow me to personalize my weapons--I missed Killzone 3's jump pack, which brought a nifty nimbleness to the battlegrounds.
The only hitch is that you will need to shop for over $25 in order to have your order qualify for free shipping but that shouldn't be too hard as you will need just $5 worth of merchandise. Amazon's deals store is a great place to find good discounts. You could, for instance, get a number of DVDs for $6.99 or less, such as Rise of the Planet of the Apes for $6.99 (reg. $16.98), Harry Potter and the Deathly Hallows part 1 for $6.88 (reg. $24.95), Rio for $4.88 (reg. $21.98) and the list goes on and on.
If you have yet to upgrade to a PlayStation 4, then now may be a good time to do so, especially since Walmart's PlayStation 4 deal that I wrote about a couple of days ago is still on. For a limited time, when you get the PlayStation 4 console at Walmart, you will also receive a $50 gift card for free. I just upgraded to the fourth generation console last week and I must admit that it was totally worth it. Yes it's expensive, but the graphics are crisp and the level of details makes even paying as high as $70 for a game (usual price) totally worth it.
(Image Credit: Ian Miles Cheong)
(Expiry: Very Soon)