Powerfist 24V Cordless Impact Wrench Only $24 @ Princess Auto Canada (+Shipping) - now expired!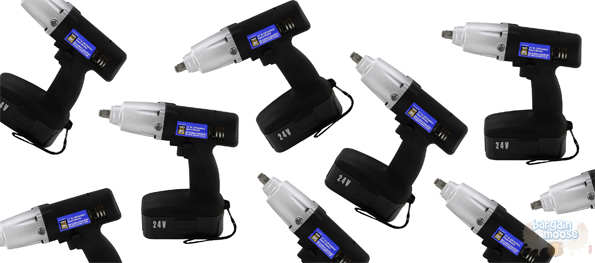 Powerfist. POWERFIST! What a powerful brand name! That's the brand of this cordless impact wrench from Princess Auto, which I think is rather a good price. Originally $92.43, there's $40.40 of a discount, bringing it down to only $52.03.
(UPDATE - the deal expired fast!)
I'm going to show you a bit of info for you as to what you get with this power tool and some of the features:
Includes one hour quick charger
Comes with a high capacity 1,700 mAH Ni-Cd battery pack
2900 impacts per minute
280 ft-lbs of maximum torque
I personally don't have a whole wealth of knowledge on this type of tool, so I asked my partner about it. Here are his words:
You know the way a screwdriver goes bzzzzzzzzz… a screwdriver has a normal electric motor which turns. An impact wrench actually uses a hammer action so that it is knocking the screw round in incremental little jumps. It is far more effective and far more powerful especially for high torque environments. But ah… ear plugs are essential, not optional. 24V is high voltage… I'd like one. But they're incredibly loud.
Well, there you go!
Price Comparison
While I cannot price compare this exact cordless impact wrench elsewhere as it is Princess Auto's own brand, I can show you some prices of similar devices from other stores and brands.
On Home Depot, I found similar cordless impact wrenches from $79, they were Makita – but that price was for the tool only, without the rechargeable battery. On Amazon.ca, there are Dewalt ones from $65 to $100, but again they didn't have batteries included in the price. So we can see that this price from Princess Auto is really good considering it comes with the battery included. Please understand that I am just comparing like for like here, it's a general overview of a similarly specced tool.
Canadian Shipping
Shipping depends on where you live, but when I was doing a test order, it showed at $12. That's a bit steep, but it's a good base price on the cordless impact wrench itself, so it could be worth it.
There aren't many in stock, this deal may not last for long!
(Expiry unknown)