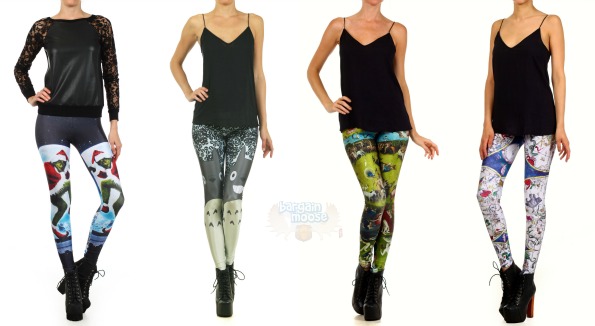 I have a very special coupon code to share with you all for the US company Poprageous! This is the first time we have mentioned them on Bargainmoose so please give this company a warm welcome. Poprageous has a cult-like following for their shiny American printed apparel made on Los Angeles. They print leggings, dresses, skirts, and more. Right now they have a huge 30% off coupon that expires tomorrow!
Click here to shop @ Poprageous (US) now
Coupon Code: VETDAY30
Discount: 30% off
Expiry: 12th November 2014
There was a wee bit of contradictory information in the email - in one place it says it was good only for the 11th and yet the listed expiry date was for the 12th so this coupon should hopefully work until end of day tomorrow. If you run into any trouble, I found another coupon code for 18% off you can use in case you miss this one.
Coupon Code: POPRAGE4EVA
Discount: 18% off
Expiry: Unknown
I have no idea when that beauty expires. Now, we really need to get down to why Poprageous is so cool. They make shiny leggings like a certain other company I like (Black Milk), and they are made IN the USA so there will be no duty for Canadians. In addition, they offer free shipping to Canada on orders of $75 or more. If your order is under that minimum, then shipping costs are a mere $6.
Personally, I am trying to talk myself out of ordering these Qinni: Ghibli Leggings as I am such a huge fan of Studio Ghibli movies like My Neighbor Totoro and Ponyo. Originally $85, they come down to $59.50 after coupon. However, if I bought just one pair of leggings, then I would have to pay shipping. What better reason do I need to buy two pairs? These Totoro Leggings only cost $80 originally, and they come down to $56. I love how the upper pattern is made up of the soot sprites with two different faces of Totoro below.
There are also swimsuits, dresses, skirts, tops, and a lot more items to choose from. I was unsure of what size to order, as my hips are substantially larger than my waist measurement. Therefore, I contacted Poprageous via Facebook and they responded within a short amount of time with their recommendation. If you have any questions, I suggest doing the same.
All prices are in US dollars. There will be no duties charged as these products are made in the USA.