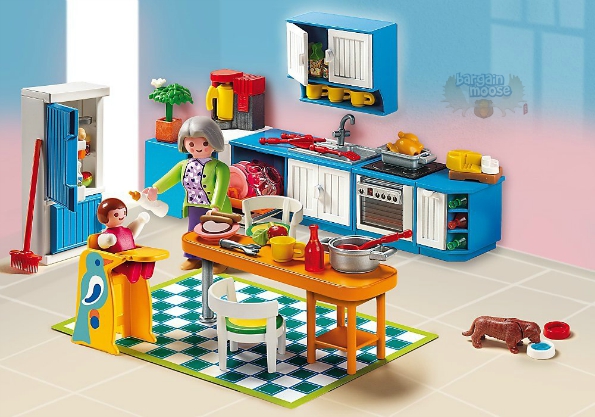 Are you looking to expand your child's Playmobil collection? Then check out this Playmobil Grand Kitchen was $36.99 and is now $24.71 at Amazon Canada. Either use your Amazon Prime trial for free shipping or find a small filler item to bump your purchase price up above $25.
(EXPIRED - sold out fast at the low price!)
Stock is getting low at Amazon but the beauty of Amazon is that you can order items even when they are out of stock and they will simply be shipped to you when they come back in stock. I recently did that with my Chronicles of Riddick steel book purchase.
I price compared this Playmobil kitchen with other online retailers. Anywhere else, this set will cost you:
$36.99 @ Mastermind Toys
$32.95 @ Chapters indigo Canada
$39.99 @ Bed Bath & Beyond
The set includes a dishwasher, dishwasher, refrigerator, oven, stove, one figure, baby and high chair, dog with bowl, coffee maker, table, chairs and many other pieces of equipment and accessories like utensils and food. One reviewer on Chapters Canada said that the set was superb value because of how many unique pieces are included. It is always hard to tell from pictures just what all is included and what is staged, but this set looks very promising.
The beauty of Playmobil lies in their articulated figures. These figures can bend, sit, stand, and turn their heads in order for role play to be as realistic as possible (well, as far as you can get with plastic figurines).
Playmobil is a fan favourite among parents because of the size of the figures, the variety of the sets, the interplay between different sets, and the colourful colours. I think Playmobil does many things right: like this set that includes a mother and baby.
Now, if you do not have a Prime membership, you will need a filler item. I recommend the inexpensive Field of Dreams [Blu-ray + DVD + Digital Copy] that was $19.99 and is now only $3.99. This movie is a great deal just by itself, but it makes a good throw-in to any cart that needs to just reach $25 for free shipping. You get a good family-friendly movie to watch while your child plays with their new playset.
(Expiry: Unknown)