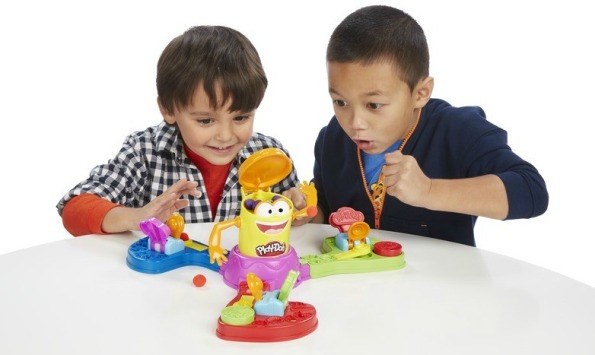 Woo-hoo! Play-Doh is always a top seller around Christmas time, so why not get a fantastic discount while getting a trendy item to wrap up and put under the tree? Right now Walmart.ca has the Play-Doh Launch-O-Rama Game on clearance sale from $19.93 down to just $9. Spend $50 to get free shipping or explore the other free options from Walmart.ca.
Do your kids love Play-Doh? Do your kids love games? Now combine those two items and you have yoursef the Play-Doh Launch-O-Rama game. This game will provide endless hours of fun for  your little ones for just nine bucks. It doesn't have any reviews on the Walmart.ca website yet, but being made by Play-Doh I would imagine this item is of quality.
So how do you combine Play-Doh with a board game? Your kids will be able to build their own ammunition out of PlayDoh and launch it at the the Orange Guy in the centre of the game. He will be waving his wacky arms, and he even spins round. Whoever gets the most Play-Doh into the can wins. This game actually sounds like quite a bit of fun if you ask me. I would just worry about the colours merging together when you don't want them too. At least Play-Doh is quite inexpensive and easy to replace when it comes time. This game is best with 2 or 3 players. You will need one C battery, which unfortunately isn't included. Some assembly is also required. It does include 3 cans of Play-Doh as well as an Orange Guy can, Orange Guy lid, 2 Orange Guy arms, the game base, 3 separate launchers and instructions.
When it comes to shipping your purchase to your home, there are a few different options from Walmart.ca. You can spend $50 and get free shipping, or get  your item shipped to your local Canada Post Office or Grab & Go Locker for free if you don't spend $50. You will easily be able to spend $50 right now though, with the fabulous clearance offers and Christmas just around the corner.
(Expiry: Soon!)