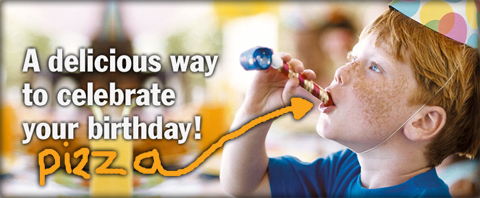 I bet you didn't know that you can sign your kids up for freebies from Pizza Pizza Canada! Enter their details in the online form to subscribe. Make sure that you do this well in advance of their birthday, to make sure they get the Pizza Pizza deal on time.
Once you have signed up the kids, they get a birthday card mailed to their home on their birthday. Additionally, they get free pizza and pop! They have to bring the birthday card to the store within 30 days of their birthday to claim it.
Offer is valid for one slice of Cheese or Pepperoni Pizza and a 355 ml can of pop, 250 ml milk or 500 ml bottled water.
This Pizza Pizza deal is only available in Ontario or Quebec.