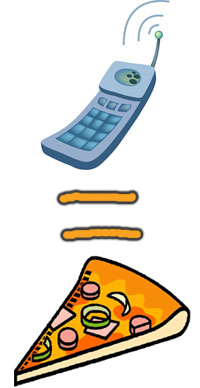 According to this recent article in the Daily Observer, Pizza Pizza stores in Canada are offering customers free pizza slices when you hand in your old cellphones! You can choose a free pepperoni or a free cheese slice when you trade in your old phone. Proceeds of this "Cells For Slices" recycling drive will go to local food banks!
Click here for the Pizza Pizza store locator.
I know all of us have one or two cellphones hiding in desk drawers, that haven't seen the light of day in a few years. I think if I had a rummage around in my house, I could probably find 4 working phones, which aren't used any more.
This deal is running during the month of April 2009! If you liked this offer, please subscribe to my RSS feeds or daily email updates!