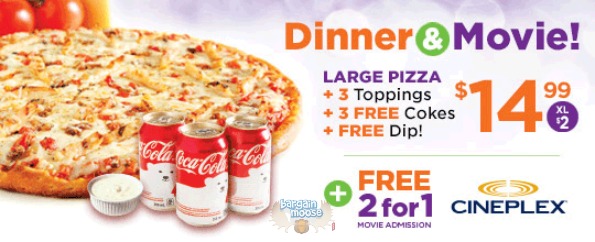 Pizza Pizza Canada is offering an awesome deal of dinner and a movie for only $14.99. You get a large, three-topping pizza, three free cokes, a free dip and a coupon for a two for one movie admission at Cineplex. If you want to upsize to an xtra large pizza, it is only $16.99.
If you love pizza and movies, this deal from Pizza Pizza is fantastic! Pizza Pizza has so many options for pizza, there is something for everyone. I was actually shocked to see the choices they now have for a seriously fully customizable pizza.
Choose first from whole grain or regular dough. Do you want thin crust, thick crust or even no crust? They have 10 different sauces to choose from, or no sauce. You can even choose how much sauce you want. There are too many toppings to count, including favourites like fresh mushrooms or kalmata olives, and new great toppings like arugula and grilled zucchini, and those are just the veggie choices. Numerous meat choices like tuna or steak are great for the adventurous pizza eater, or get New York style pepperoni. Choose from four cheese, feta and goat cheese on top of the regular mozzarella.
Their website is incredibly easy to navigate. You could sit there for hours choosing your awesome dinner for the night. If you love what you ordered, save it and you can easily come back to it for the next pizza delivery night.
Delivery varies based on area ordered from.
(Expiry: Unknown)