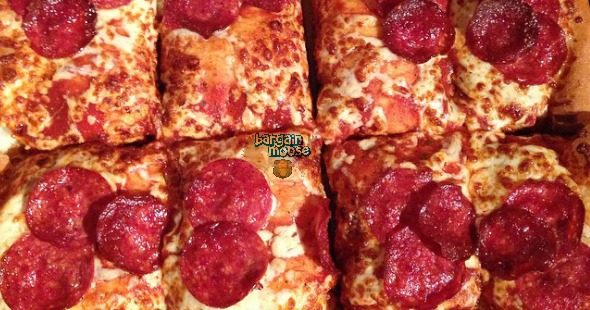 Are you having friends over this weekend? Feeding all of your friends can get expensive, but this time you can feel good about footing the bill. Pizza Hut Canada has a new deal with you in mind. You can order their Panormous Pizza for just $12.99. They will even throw in a free 2L bottle of pop. This offer is around for a limited time only, so snag it while you can.
The Pizza Hut Canada Panormous Pizza for just $12.99 is their largest Pizza Pan Pizza that they have to offer. This Pizza is said to feed 4-6 people which makes lunch or dinner fairly inexpensive. This deep pan pizza will boast 16 delicious slices with one topping of your choice and a free 2L bottle of pop. The free bottle of pop is only available if quantities at your local Pizza Hut store allow.
I personally have a serious committed relationship with pizza. It is a meal in our house at least once a week - sometimes twice. It can get rather costly to keep this relationship up, so this Panormous pizza is great for a family like mine. If you want to look at the cost per person for this offer, imagine you were only feeding four people. If everyone chips in, each person would only have to pay $3.25 to eat. This is before delivery and taxes of course. If six people dig in, it will only cost $2.15 per person. Even with six people eating, that is still two slices each. You won't be able to go out and get two slices of pizza for $2.15 anywhere, unless you go to Ikea. This pizza is so much better though. The Panormous Pizza comes in two separate pizzas - which means even more corner pieces! Corner pieces are my favourite and I could easily fight someone over it.
Honestly, Pizza Hut has to be one of my favourite pizza places to begin with. I find Gino's is way too greasy and Little Caesar's is too dry. Unfortunately this offer is not available in Quebec. I also have found with Pizza Hut offers, that some locations do not participate. Be sure to check your local Pizza Hut Canada when ordering online. This offer is available online only, and only comes with one topping. The advertisements say that this offer comes with a free 2L bottle of Pepsi, but you can select any pop available really. I prefer Pepsi, so that is the option I would go with anyway.
(Expiry: Unknown)