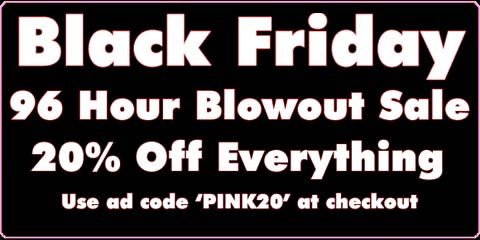 Pink Cherry Canada is also holding a Black Friday weekend sale, and they're offering a 20% discount site-wide!
Click here to shop online @ Pink Cherry Canada
[blogcoupon name=" Pink Cherry Canada" code="PINK20" url=" pinkcherry.ca" discount="20% off" expiry="30th November 2009"]
Now, Pink Cherry is an adult toy site, so I don't think you should be clicking through if you are viewing from work, unless you have a pretty liberal workplace! There are some things for sale on Pink Cherry that you probably wouldn't want your boss spotting on your screen… or maybe you would…?!?
Everything on the site can be discounted by a further 20% when you apply the Pink Cherry ad code above.
P.S. If you'd like to win $100 worth of merchandise from Pink Cherry Canada, be sure to enter the Bargainmoose contest!