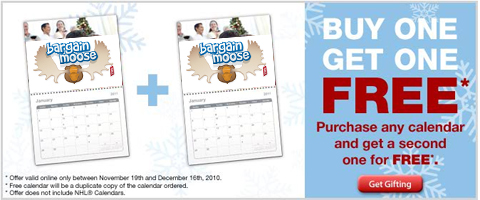 Avid Bargainmooser Stephanie has emailed me another deal worth sharing. If you buy one photo calendar from Photolab.ca, you get a second one for free.
Calendar prices start at $16.99, depending on what type of calendar you want. The cheapest is the same image each month, or you pay more if you want each month to have different images.  The free calendar will be a duplicate of the first one that you order, so keep that in mind if you are thinking about gifting one or both of the calendars.
When you're going through checkout, it doesn't say anything about the free calendar in your cart, but this is advertised on their home page so it should be fine.
Ends 16th December 2010, excludes NHL calendars.