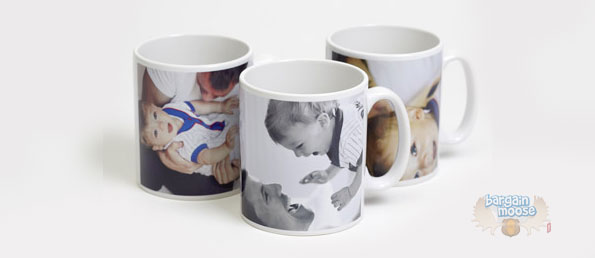 Customize your own photo mug at Photobox Canada and get it for free for a limited time only! All you need to pay is the $3.95 shipping fee.
Click here to get your free photo mug @ Photobox.ca now
Coupon Code: CAPHOTOMUG
Discount: free simple photo mug
Expiry: 17th October 2014
Photo products have been all the rage lately but they can end up costing a pretty penny. Even though you need to pay the $3.95 to get this deal, it's still a pretty cool freebie because this photo mug would have otherwise cost you $14.99. In fact, I had a look at Snapfish Canada's site, another popular photo gift online store, and even there, a photo mug is priced at $13.99.
Once you click on the big green button on Photobox's page to "create photo mug", you will be asked to choose between a simple photo mug or a personalized photo mug but keep in mind that the Photobox coupon code is only applicable on the simple photo mug (the option on the left). From there, you will be able to customize your own mug, which is made of white ceramic and is both dishwasher along with microwave safe.
Despite it being labelled as a simple photo mug, you can actually choose between 10 different layouts by clicking on "designs" at the bottom of the editing stage. Designs include but are not limited to 2 images side-by-side, a bigger text field than the image, 3 images side-by-side, etc.
What's cool is that you can also add text to your mug. Upon first discovering this deal, I totally didn't expect to be able to customize the mug this much, so for nearly $4, it's definitely pretty awesome.
Once you reach check out, you will see an estimate date of arrival for the mug but keep in mind that this is the longest estimated dispatch date. A credit card isn't necessarily needed to get this offer either as you can also get this freebie by using PayPal.
Plus, if this is your first time ordering from Photobox Canada, then once you order the mug, you will also receive the promotional code CANEXT20 for a 20% discount on your order. Photobox Canada is also currently running a "spend more to save more" event where you can either save 10% off orders over $10 with the code CASAVETEN, 30% off orders over $30 with the code CASAVETHIRTY or as much as 50% off orders over $50 with the code CASAVEFIFTY.