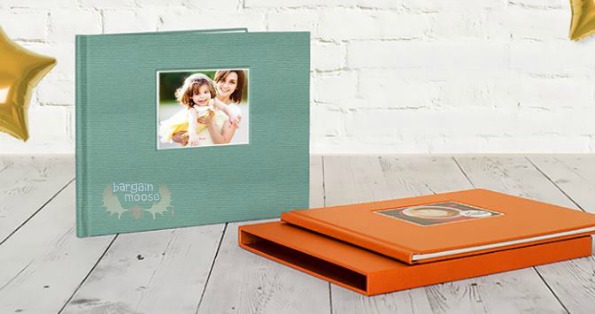 With four new exclusives to get you uploading your photos, you can get discounts on a few different products from Photobook Canada with these promo codes.
Click here to shop @ Photobookcanada.com now
Coupon Code: MOOSEWISH
Discount: $15.99 for 20 greeting cards
Coupon Code: MOOSESEASON
Discount: $13.99 for a 6"x8" desk calendar
Coupon Code: MOOSEPHOTO
Discount: $24.99 for a medium landscape book
Coupon Code: MOOSETIME
Discount: 11"x5" desk calendar only $13.99
Expiry: 31st December 2014
All of these deals also come with free shipping, which is a great bonus as you usually have to spend $75 to get free express shipping or pay per item a minimum of $8 each item.
With up to 64% off, these four products are definite steals. I love the idea of making a personalized desk calendar. I look at my desk calendar probably a few times a day and it would be nice to see the smiling faces of the ones I love on the calendar. It makes a calendar not boring. With two sizes to choose from, the smaller one - 6"x8" was $19.99, but with coupon you'll get it for $13.99. The larger calendar is a long style at 11"x5" and was $21.99, now $13.99.
If you are sending out greeting cards this holiday, personalized are also the way to go. It lets your friends and family get the picture of how your family is doing and shows them you are thinking about them. Now $15.99 for 20 5"x7" flat cards, they are normally $35.80.
A photobook also makes the perfect gift for everyone. It takes a little bit of time to put together a photobook, so if you do one for someone, it really can be a special gift. Use the coupon code to get the medium landscape imagewrap 11"x8.5" photobook for only $24.99 with a regular price of $69.99. That's a great savings that you can put towards adding pages to your book. What's really great is that they include 40 pages for this price, while most photobook companies only include 20. I am love with their themes, which are not cutesy, boring or limited. The 10 reasons and sunkissed are my favourites.
Stop by the forum to get your Photobook Canada coupons. Share them with your friends, they don't want to miss out on this deal!