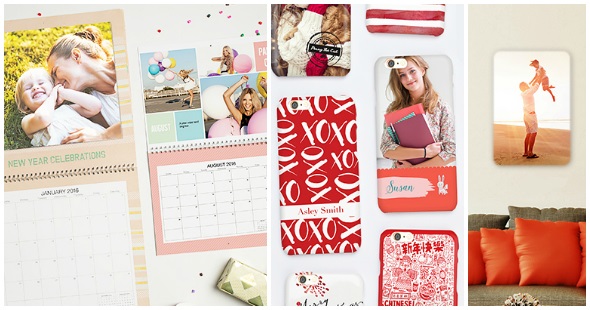 How many hundreds of photos will you take over the holidays? From visiting family you only see once a year, baby's first Christmas, New Year's Eve parties and all the other festivities, your smartphones and digital cameras will inevitably get quite a workout. Some memories are too special to keep solely in digital form and the Boxing Day sale at Photobook Canada offers some incredible savings to help preserve and display special times in other ways. With 2015 coming to a close, it's also the perfect time to cull through the highlights from throughout the year.
Here's a great way to relive the past year, including the holidays. At 80% off this week, you can create calendars from your favourite pictures. If you're looking for a wall calendar for the office or kitchen, choose from two different sizes and either 5 or 10 calendars. The incredible 80% savings works out as follows:
11" x 8" (5 identical copies) for 

$26.99,

 regularly 

$134.95

12" x 12" (5 identical copies) for 

$29.99,

 regularly 

$149.95

11" x 8" (10 identical copies) for 

$52.99,

regularly

$269.90

12" x 12" (10 identical copies) for 

$58.99,

regularly

$299.90
Photobook Canada is also offering these savings on desk calendars:
6" x 8" (5 identical copies) for $19.99, regularly

$99.95

11" x 5" (5 identical copies) for $21.99, regularly 

$109.95
Did you receive a new iPhone from Santa yesterday? Here's another great way to display your favourite picture of your favourite people: personalized iPhone cases!
Available for the iPhone 6 and 6s, as well as the 6+ and 6s+, you can make a design using just one photo or select multiple to create a collage. With savings from 32% to 37%, this is a clever alternative to all those plain, boring cases you can buy at the electronics store.
iPhone 6 Slim Case - $26.99

$39.99

| Save 32%
iPhone 6+ Slim Case - 

$27.99

$44.99

| Save 37%
Phone 6S Slim Case - 

$29.99

$44.99

| Save 33%
iPhone 6S+ Slim Case - 

$32.99

$49.99

| Save 34%
Not to be forgotten, Photobook Canada's namesake: photo books! With many different sizes and layouts to choose from, you can let your creativity go wild. With savings ranging from 58% for the Pro Series Photobooks to 71% for an extra large format hardcover, you're getting a fantastic deal. Get their bestselling 11" x 8.5" Medium Landscape Photobook for 65% off the regular $65.99 price tag at just $22.99.
You can also find savings on metal and canvas prints to spice up your bare walls with some more personal decoration. Regularly $114.99, the 12" x 18" metal print is 65% off at just $39.99.
Great memories are truly priceless but it never hurts to save money preserving them and showing them off. Take advantage of this Boxing Day sale from Photobook Canada before it expires tonight. You won't have to worry about going through every photo just yet -- you're actually purchasing a voucher for your selected product, so you can return and create it at your leisure (prior to its expiration).
Shipping from Photobook Canada varies but starts at $7.99. We also have coupon codes for exclusive discounts and other promotions in our Bargainmoose forum if none of these discounts appeal to you.
(Expires: 26th December 2015)