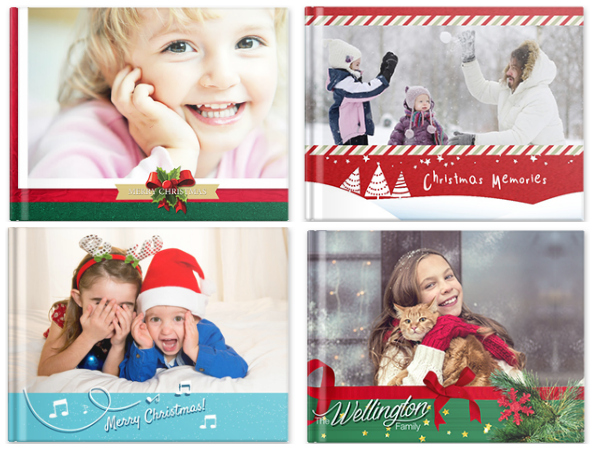 If photobooks are one of the items on your Christmas gift list, then you should have a look at the Black Friday/Cyber Monday sale which has started over at Photobook Canada. They are advertising up to 80% off the cost of their photo gifts – so it could be a good time to buy!
I'm going to show you a quick list of prices here, so you can scan down and see the types of deals on offer:
80% off 8" x 8" Small Square Imagewrap Hardcover – now $9.99
69% off the 11" x 8.5" Medium Landscape 40 page Imagewrap book – now $19.99
74% off the 8" x 11" Medium Portrait 40 page Imagewrap book – now $28.99
81% off 11" x 8" Wall Calendar & BOGOF – now $9.99
80% off 5" x 7" Flat 20x Greeting Cards – now $6.99
6" x 6" Mini Square Softcover (20 copies) – now $99.99 & free shipping
As for the last one on the list – the 20 copies of a 6x6 mini photobook – isn't this a great idea, if you have a large circle of family and friends? You could make a little personalized family book, and give a copy to everyone. The books work out at $5 shipped, each. I've just done a quick count in my head and I can easily imagine giving out 12 copies – and that would only be to direct family. Or an alternative idea – if you had a big event like a wedding in the last year, it's cool to make mini-wedding photobooks for all your guests!
As for shipping on all the other items, it depends on what you buy. . You can see all the shipping costs for individual items here. I'll have to say that shipping from Photobook Canada is not the cheapest in the world, but with the excellent discounts above, then there is potential to get a great price overall.
For example, on the 8" x 11" Medium Portrait 40 page Imagewrap book which is $28.99, shipping is an extra 11.99. What I would recommend is comparing the total cost with shipping included, with the deals from competitors for the exact size you want. For example, an 8x11 hard cover from Snapfish.ca is $35 + shipping as well, so the Photobook Canada deal works out to be a better price there.
(Expires: 7th December 2015)