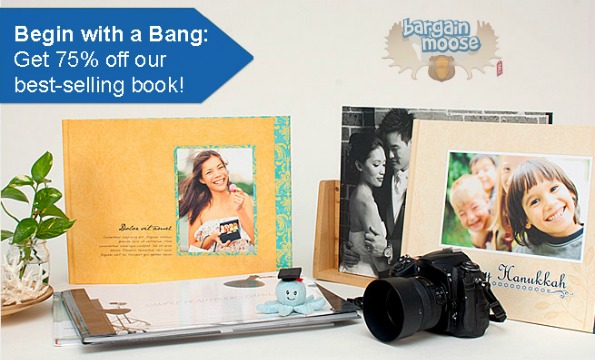 For tw0 more days, save 75% off Photobook Canada's 60 page large Landscape Imagewrap photobook.
Prepay $40.96 for the large 60 page imagewrap book - this has a regular value of $145! You save $104.04. The large landscape book measures 15 x 11 so you are getting a good sized book, in fact, it's the bestselling book on Photobook Canada.
Once you order, a voucher code will be emailed to you and this voucher code must be entered at checkout.
If you aren't ready to make a photobook right now, don't worry because the voucher doesn't expire until 1oth July, 2012.
You can click herefor instructions and all terms and conditions.
Get those 2011 memories in order or create a birthday book, wedding album, or cookbook! Create your own book, step by step or use one of Photobook Canada's Readybooks which are ready made templates created by Photobook's designers. Great idea if you don't have a lot of time or are just a newbie to creating photobooks.
Expires: 6th January, 2012