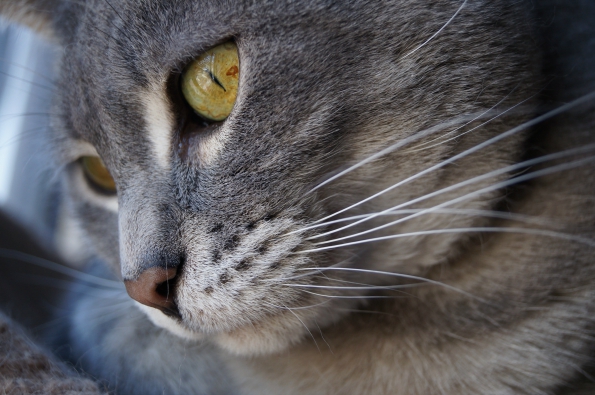 Petsmart Canada has released a rare online coupon code. Get $5 off $30, $10 off $60, or $15 off $75 when you purchase online.
Click here to shop online @ Petsmart Canada now
Coupon Code: SAVE15JULY
Discount: $5 off $30, $10 off $60, or $15 off $75
Expiry: 20th July 2015
Petsmart Canada allows online purchases with free shipping to store and then requires you to pick up your purchase at your local store. They have not yet branched out into a home delivery option. Given that pet food and supplies tend to be quite heavy and bulky, I understand why they do this. Even so, I am quite delighted by this coupon code as we do not have enough deals on pet supplies yet almost everyone I know owns at least one pet.
I just transitioned my cat over to BLUE™Indoor Health Chicken & Brown Rice Indoor Adult Cat Food because it is free from a lot of the filler crap they put in cat and dog food these days. The first ingredient is actually deboned Chicken - what a novel idea to feed a carnivore actual meat! Their 17lb bonus bags cost $47.99 and are well worth the price if you can find them on sale or use a coupon code like I have below: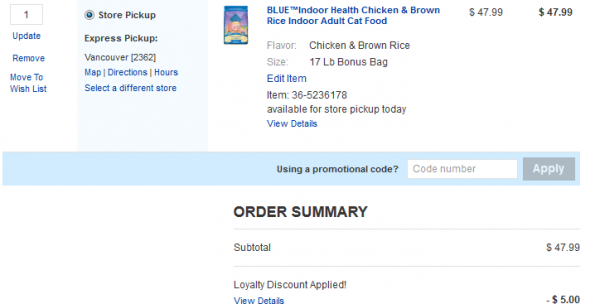 My cat is on a diet, so he only eats 2/3 a cup per day. This 17lb bag is going to last me for many months to come.
This coupon code can only be used once per customer and you may need to have a PetPerks card to use it, but I am not sure on that. It appears that you can use these coupons on pretty much anything except services like grooming, pet adoptions, gift cards, and taxes. You know, the usual.
For cat owners, you really must have an accessible scratching post for your feline if you want your furniture to survive. I highly recommend this Whisker City® Kitty Cactus Cat Scratcher as it is large enough for big cats (mine is 17 lbs), gives the cat plenty of stretch, and is durable. Originally $42.99, this cat scratcher is on sale for $34.39. After coupon code, pay just $29.39.
While there was an in store coupon in addition to the Petsmart online coupon code, the printable coupon was linked directly to my Pet perks account and thus was for my use only. I highly recommend signing up for the Petsmart newsletter to receive printable coupons you can use in store.