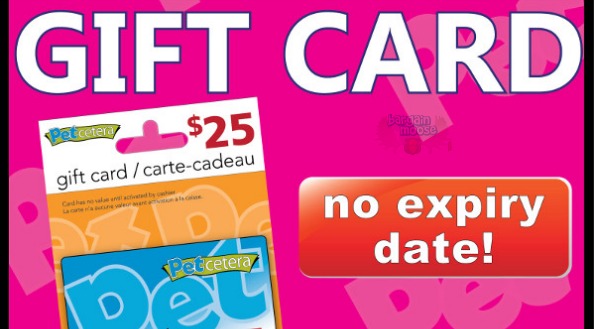 One of my favourite promotions is back on at Petcetera Canada right now.  When you spend $50 or more on almost anything, you will get a free $25 gift card for your next purchase!
This deal excludes the purchase of gift cards, services or adoptions, but anything else you buy will get you this free gift card.
I have said many times in the past that this is one of my favourite promotions, because we have two big dogs and pets can be quite expensive.  I take advantage of this promotion every single time it happens and save up the gift cards and use them all at once.  Since they have no expiry date, I wait until we really need something for the dogs or when their food goes on sale, and stock up on it.
The best way to take advantage of this promotion is to split up your purchases.  If you are planning on spending more than $100, it is best to either split your purchases up into $50 purchases to get a gift card with each purchase, or to head in a few times during this week to get more than one gift card.  Some locations will allow you to split your order and pay separately but some will not, it is the luck of the draw I guess.
(Expiry: 24th November 2013)