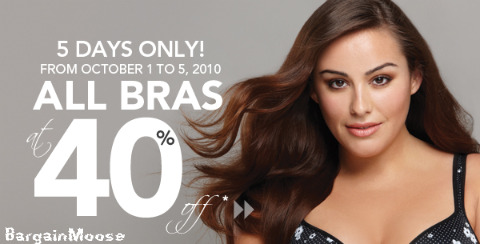 I like bras. I'm not sure all women share my sentiment but I really do like bras. They can be very pretty, comfortable, provide support and shape. They present the girls in a good light, ya'know? Penningtons is currently offering 40% off almost all of their bras.
With each Pennington bra you purchase you will also get a free gentle washing powder. If you buy 2 bras, $5 of your purchase will be donated to the Canadian Breast Cancer Foundation.
This bra sale goes from October 1 - 5, 2010.
I check in to make sure all was working on this pretty WonderBra(R) Full Support Underwire Bra. Priced at $39.99 it has a little (40% off) beside it. The 40% off gets taken once the item is added to your cart. Suddenly the price for that bra in my cart dropped down to $23.99. I do love 40% off sales!