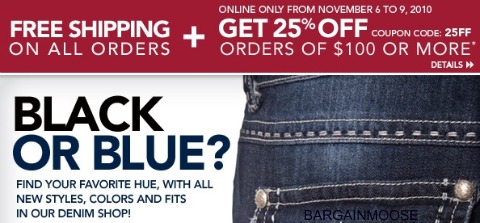 It has been almost a month since our last Penningtons post (so long!) and I am happy to say that this deal exceeds the previous one we posted. Penningtons is offering an exceptional 25% off orders of $100+ and free shipping on all orders to boot. A good combination for those in need of a wardrobe upgrade. (For those curious, the last offer was only 15% off + free ship).
Click here to shop Penningtons 14+
Discount: 25% off $100 + free shipping
Coupon Code: 25FF
Expires: 9th, November 2010
They have a whole bunch of in-store promos going on right now as well, including 30% off sale items and save $25 off $100 and you will get a ticket to savings off a purchase at a later date. all very exciting. See the website for details.
NOTE: this deal also applies to Addition Elle and  MXM Canada.