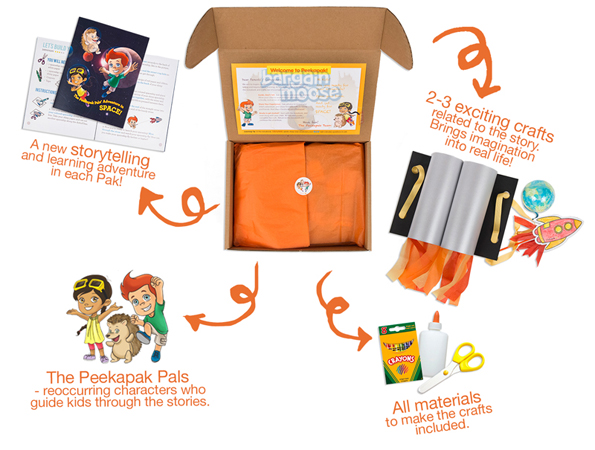 A few days ago, I wrote about a new company to Bargainmoose, Peekapak Canada. I had spotted a $5 discount, but they've gone one better and forwarded me a $10 coupon code! Here are all the details:
Click here to use the Peekapak coupon code online now
CouponCode: SPECIAL10
Discount: $10 off
Expires: Unknown
The above coupon code applies to 3, 6, and 12 month subscriptions, and you'll also get free Canadian shipping on ANY order, which is fantastic. For example, the 3 month plan totals $71.97, so you'd get it for $61.97 with this coupon code, that's $20.66 per month.
As I mentioned last time, as part of your subscription you will get a new Peekapak adventure each month that you are subscribed. Each Peekapak is filled with a themed set of stories and crafts, with all the materials you need to undertake the making thereof.
I have a four year old daughter and each day, I have to come up with ideas to pass the time. We've got a big craft box filled with scrap paper, buttons, glue, glitter, cardboard… and often have to come up with ideas for what to do. If we're not crafting we're coin rubbing, painting, colouring… always something to keep her entertained. Sometimes it can be a strain to think of something new to do, so that's why I think these Peekapaks are a fantastic idea. As well as carrying out the crafts contained therein, I'd imagine that you could also spawn more crafts and stories from the ideas and the themes in those packs.
Have you tried the Peekapakyet? Let us know in the comments below.