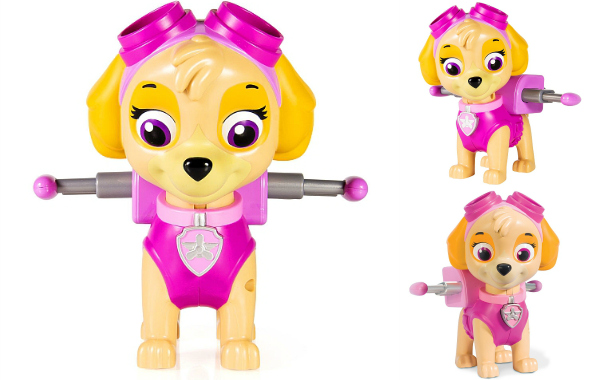 Paw Patrol is popular with the kids this year and we have been looking for the best deals on all your Paw Patrol needs. The Paw Patrol - Jumbo Action Pup - Skye is currently on sale from $24.99 down to $16.97 from the Toys R Us Outlet store on eBay Canada. This deal is made better with free shipping on the toy.
This jumbo-sized Skye is 6" tall with fun features for your kids. Have her join the other Jumbo Action Pups to keep an eye out for danger or play with her on her own. You can launch Skye's wings with the release button on her pup pack. The wings go out and Skye is ready to soar. It seems only appropriate as her name is 'Skye'. I rather like the old-fashioned flying goggles on her head - safety first!
This is a fun little toy for kids who love the Paw Patrol series. You can collect the others too - but they are super hard to find in stock at a good price. This is the only one I could find in stock at Toys R Us and it is out of stock elsewhere.
As is to be expected, it is on sale for the same price at Toys R Us but you do not get free shipping there (which is like $10) and you cannot do in store pick up. I also found the same Paw Patrol Jumbo Action Pup for $26.99 at Showcase Canada. Even at Showcase, you need to meet a minimum of $40 for free shipping so you would have to pay extra there as well.
The discount together with the free shipping promotion on this toy makes it a good deal in my books. I also think it is a good deal because these toys are hard to find and hard to find on sale. With Paw patrol on many children's Christmas lists this year, it is nice to find a solid deal on a Paw Patrol toy.
Are you giving your kids some Paw Patrol toys this year? If so, which are their favourite characters?
(Expiry: Unknown)