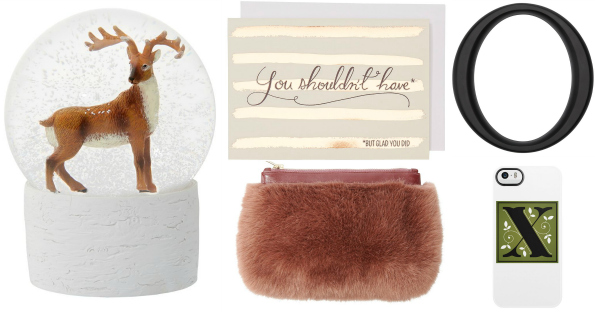 The Chapters Canada sale is still in full force and there are items you can STILL find for over 70% off. I have compiled a selection of my favourite items that are 70% and over with free shipping on $25 or more. Load up a cart with good deals and get an extra 10% off your order when you checkout with Visa Checkout.
I have picked out a fun selection of items that are highly discount and available online right now at Chapters Indigo. I have separated them into a few categories, so check out the deals below.
Accessories
I found this delightful Fab Faux Fur Pouch - Blush on sale from $34.50 down to $10. the pouch measures 9 x 6" so it is roomy enough to be used as a clutch for an evening out or you can convert it into a cosmetic bag.
Electronics
The Uncommon X Case for iPhone 5/5S and theUncommon U Case for iPhone 5/5Sare each on sale from $34.95 down to $8.73. These cases will actually fit my phone, which I love and still use every single day. No upgrades to an iPhone 6 for me.
Next, this Native Union Curve Bluetooth iDock for iPhone is a pretty funky accessory. It works with the iPhone 4/4S or other iPhones that use the same port. Originally $99.95, the dock is on sale for $24.98. This is not only a dock: it converts your cell phone into a landline phone with a full handset.
Home Decor

If you are looking for inexpensive decorations, check out the Black Letter O and the White Letter O each on sale from $19.50 down to $5.50 each. You might not think of it but these have a lot of potential. You could easily convert them into simple picture frames with some cardboard and some sticky tape.
This Deer Snow Globe is perfect for any season - though winter is best. Originally $29.50, it is on sale for just $8.50. I have a family member that collects owls of all sorts. This Mercury Glass LED Owl would make a nice gift for her and it is appropriate for all year around. I would like to even use it in my own bathroom instead of a candle. Originally $39.50, it is now $11.50. There are also a ton of holiday ornaments over 70% off.
Stationery
There is a ton of paper products on sale for over 70% off. I like this Dream Big Note Block on sale from $14.95 down to $3.74. It is great for all year around. TheseCreate Magic Stationery Sheets are on sale from $12.95 down to $3.24. For all those thank you cards that you need to write out, pick up the You Shouldn't Have Notes - Rose Gold, Set of 15 on sale from $14.95 down to $3.74.
(Expiry: Unknown)