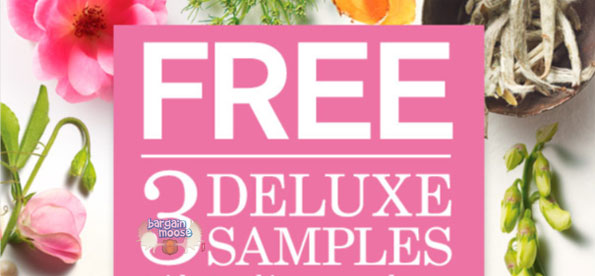 We all love loads of free stuff and this newest offer from Origins doesn't disappoint. For a limited time, you can get all of the the following for free on any order total: free shipping, 3 free deluxe samples and a free pouch.
Just the free shipping offer alone makes this promotion pretty awesome because usual shipping charges for orders under $25 are $8, under $40 are $9, all the way up to $13 for purchases totalling over $100. Definitely fees that aren't easy to swallow, so a free shipping offer is always much welcome!
Plus, you get to choose the three free samples that you want but make sure to actually do it! Once you add any item to your basket and click on "checkout", you will see a big orange button next to the words "choose samples", so make sure to click it! You can choose 3 samples among the following 10:
30ml Chec & Balances frothy face wash
30ml Planscription anti-aging cleanser
30ml A Perfect World antioxidant cleanser with white tea
15ml Modern Friction nature's gentle dermabrasion
15ml Clear Improvement active charcoal mask to clear pores
15ml Drink Up Intensive overnight mask to quench skin's thirst
15ml A Perfect World antioxidant moisturizer with white tea
15ml Plantscription youth-renewing night cream
5ml GinZing refreshing eye cream to brighten and depuff
7ml Drink Up hydrating lip balm
To really take advantage of these freebies, I definitely suggest you pick the three 30ml samples. Personally, I'm particularly intrigued by the A Perfect World antioxidant cleanser with white tea as according to its description, it has "dirt-grabbing minerals" and helps to detoxify skin.
Alternatively, the Drink Up hydrating lip balm sounds like it could be a great choice as well. Even though it's only 7ml, you wouldn't need nearly as much as a facial moisturizer and it might actually last you slightly longer.
The free pouch is also a great bonus. It will automatically be added to your shopping cart and judging by the promotional picture on Origin's homepage, it looks like it's white with a drawstring and a green leaf design. It does, however, look rather small but it could still be useful, especially for travel purposes. I tend to drop my powdered foundation frequently and nearly each time, it breaks into a couple of pieces and although I assemble it as best as I can, it still makes a bit of mess in my purse once it's closed. So I would totally use this pouch to store my foundation! What would you use it for?
(Expiry: 9th October 2014)