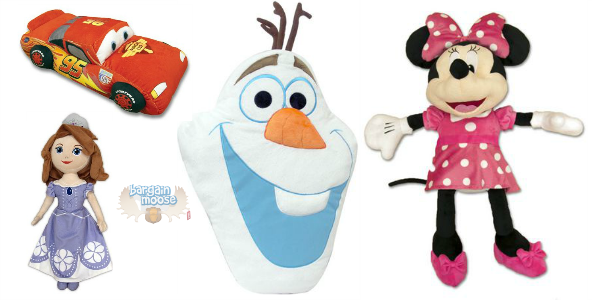 Here is a cute way to spruce up your child's room... in summmeerrrr as Olaf would sing! I love this Olaf PJ Pal Pillow that was $19.95 but are now reduced to $10. Pick up this cute pillow for your favourite Frozen loving kid.
Though this snowman is mainly a winter creature, lovable Olaf loves summertime and who can blame him. Right now over at Walmart I scored an Olaf pillow that is on sale for a great price. This pillow is perfect to throw on a little kid's bed. My daughter has a decorative owl pillow and not only does she sleep on it, all of her stuffed animal friends do also. This cute and cuddly friend will receive many cuddles and much affection.
Additional Characters
Walmart also has a few other characters on sale for you to choose from. When you have multiple kids, sometimes it makes sense to buy one item for each of them that is similar but different. Or perhaps your kid just loves several or all of these characters. Some of these characters are a full bodied style plush rather than a pillow style like Olaf is. Each one is on sale for only $10. Choose between:
Price Comparison
I did a bit of price matching and found similar Olaf pillows on the market, but none that were just the snowman's head like this one. Sears Canadahad the best priced Olaf pillow I could find. He resembles a stuffed animal more than a pillow and costs $19.99. Over at Toys R Us Canada, I found an Olaf pillow that also resembles a stuffed animal selling for $21.95. Amazon Canadahas a secondary seller with an Olaf pillow for $31.25. I found a more traditional throw pillow featuring Olaf over at Zazzle.cafor $39.95.
Shipping
Shipping at Walmart is $4.97 for this item all by itself. If you spend a minimum of $50 shipping is completely free. You could also ship this item to any Canada Post location completely free, or to the grab and go boxes for free if you are located in Ontario.
I keep imagining what it would be like to flop down on a bed or couch covered in these fun pillows. I think if I had to choose just one, I would pick Olaf though Minnie Mouse is close to my heart also. I agree with Olaf's summertime mantra 100%. My daughter is also a big Frozen fan and would love this pillow. After I finish writing this I am forwarding this deal to a few other moms I know whose kids were Olaf last Halloween.  I know the love for Olaf is still going strong in their households.
(Expiry: Unknown)