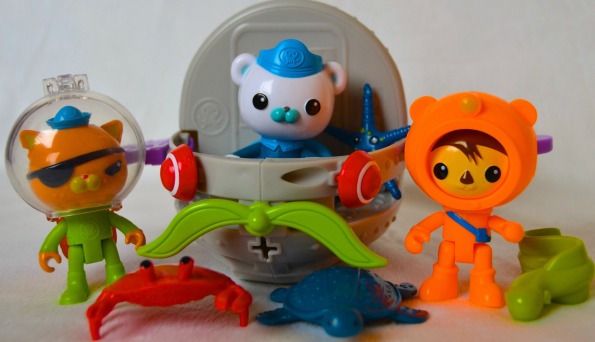 Christmas is coming. On our Facebook page we asked what you Moosers will be buying for the kids this year, and some people answered that their kids love Bubble Guppies, Octonauts and Paw Patrol. Well guess what? You're in luck! Right now Walmart.ca has an excellent clearance deal on a popular toy that your kids will adore. Right now the Bubble Guppies Gup-F-Build-A-Gup is on clearance from $24.94 down to just $10. Although, I think this is Octonauts rather than Bubble Guppies to be honest. I think they have the title wrong on Walmart's website. There are a few different options for shipping.
Now you and your kiddo can create your very own Gup for just ten bucks! This is an excellent gift to wrap and put under the tree, or even to use as an item for your Reward Chart if you have one going. This item is 60% off the regular price, and I am tempted to add it to my shopping cart. I would probably buy it if my kiddo wasn't so young. The small pieces make this toy most suitable for children over 3 years of age. You won't find this toy cheaper anywhere else. At Amazon.ca it is on sale for $19.98 down from $24.99, and at ToysRUs.ca this same toy is on sale from $27.99 down to $19.98.
When creating your own custom GUP you can add eyes, legs, fins, propellers, and even wings to your adorable lttle character. You can even make a multi-purpose machine for them to drive. Cool, right? There are over 25 different pieces to mix and match to create your own character, which make the options pretty spare. There is also a Gup-building blueprint included if you want to actually build the characters from the show. Your child can play along with the show with their favourite character or even a character they created themselves. While the vehicle might look like a submarine, this toy is unfortunately not intended for water play.
When it comes to shipping, Walmart.ca offers free shipping on all orders over $50. Other than that you can either have your item shipped to your local Canada Post Office for free or you can select to have your item sent to your local Walmart Grab & Go Locker for free. Some areas still do not offer the Grab & Go Lockers yet, so be sure to check that out.
Moosers, what do you think is up with this Walmart title error?!
(Expiry: Unknown)