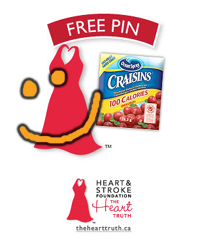 Here are a few great Canadian freebies for you from Ocean Spray Canada! They're offering us a free Red Dress pin, and a free sample of Craisins! The red pin is to show your support for the Heart & Stroke Foundation.
Click me to order your free samples and free pin from Ocean Spray Canada!
No purchase necessary. While quantities last. Limit 1 pin per household. Please allow 4-6 weeks for delivery. Offer valid only in Canada.
I am a big fan of Ocean Spray products – I love their cranberry juice. As I've mentioned in the past, it's a great mixer for vodka!! If you like cranberry sauce too, check out this deal last week for free cranberry sauce as well!
I've never had these craisins before though, so I don't know what they're like at all. Have you tried them?