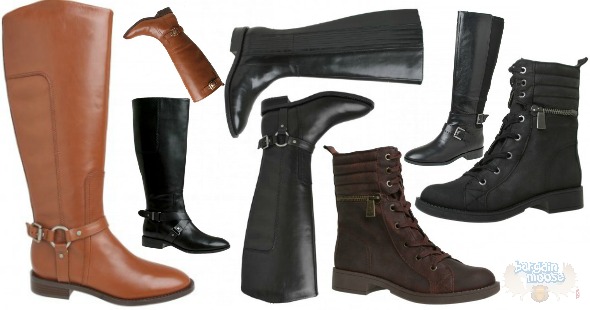 These boots were made for walking, and that's just what they'll do. One of these days these boots are going to walk allover you. At least you don't have to worry about your wallet being walked allover at this price. There are a variety of sexy boots on sale from $250 down to just $89.99 at NineWest.ca right now, and you'll even get free shipping when you spend $99 or more.
Nine West Canada has a promo right now where you can take an additional 30% off sale items. With the additional savings, you will save a total of up to 70% off the regular price. The online price already reflects the discount, so you don't need any coupon codes at the check out section. Just add your desired footwear to your cart and enjoy the discounts.
With this warm weather, boots might be the last thing on your mind. If you are an early bird like I am, then you already have Fall and Winter apparel on your radar. You actually save the most money by shopping for clothing and footwear off-season, so why not take a look at these boots on sale at Nine West Canada? Nine West Canada has a variety of footwear on sale for great prices right now. What stood out to me is the variety of high boots on sale from $250 or more down to just $89.99. 
So let us take a look at the boots available for just $89.99 at NineWest.ca right now:
The Baille boots have a subtle heel and a unique design. These boots come in black or brown, so you can match any jacket or outfit you desire. These boots are made of a quality leather and boast a decorative stitching on the side. The heel is only one inch, so you can look dressy while staying comfortable. They have a side zipper for easy on and off procedures. If you need a certain measurement for your calf, these boots have a 14 inch calf circumference.
These Batley boots come in a light brown and a black. As a horseback rider, they remind me of my favourite hobby. I feel like these boots would complete any tan pants or maybe even jeggings. These leather riding boots have a harness buckle at the ankles as well as a side zipper. These boots also have a 14 inch calf circumference.
The Beets boots from NineWest.ca are definitely for those of you with an edgy style. They come up past the knee and would accentuate a black leather jacket or another bold outfit. They sit on a low, block style heel and have an almond-shape toe which seems to be trendy lately. For $89.99 instead of $250, you will laugh all the way to the bank in these boots.
Here is a list of some of the other boots available for just $89.99, but feel free to take a look at all of the footwear available for up to 70% off the regular price at NineWest.ca during this promotion:
Nine West Canada is offering free shipping on orders over $99 right now. Otherwise shipping is applied to any order under the minimum spend thresholds and is based on the weight of the package and the destination. My shipping quote on one pair of boots was just $5.97 to my address in the Greater Toronto Area.
(Expiry: Unknown)