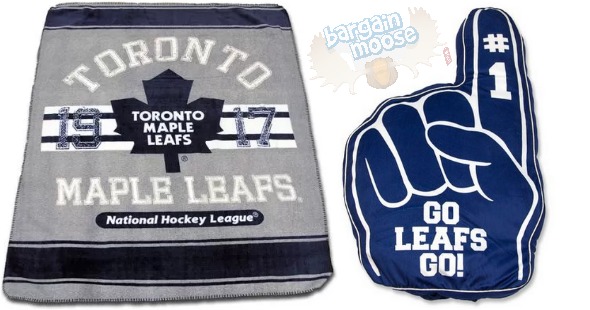 We all have that die-hard NHL fan in our family. Why not surprise them with an appropriate pillow or throw for just $5? Walmart Canada has select NHL throws and cushions on clearance sale for just $5, which is an excellent price if you ask me.
My Dad loves the Toronto Maple Leafs (I know, I know). They have the NHL Ultimate Fan Pillow with the Toronto Maple Leaf logo for just $5. This adorable pillow was originally $20, and would be the perfect item to have on his couch during their games. It is shaped like the foam fingers which is pretty cool. They also have a similar Toronto Maple Leafs NHL Team Jersey Cushion, which is of course shaped like the jersey they wear. I would put one of these at each end of his couch, with the Toronto Maple Leafs NHL Classique Fan Throw in the middle for warmth and something to cozy up to. The throw was originally $15 and is now just $5.
They have these items for other popular teams as well. The teams available are:
Vancouver Canucks
Montreal Canadiens
Boston Bruins
Edmonton Oilers
Pittsburgh Penguins
and more
Multi-Team
The throw measures 50" x 60", so by no means is this a blanket to put on your bed. But it is a great couch blanket to keep your legs and feet warm while watching the hockey game. The jersey shaped cushion is about 17" x 17", which is a great size for this hockey memorabilia. The foam finger novelty cushion is a bit larger at 25" x 17". Here are a couple of the Walmart.ca customer reviews:
The NHL Cushion:
This pillow will look great in my husband's man cave television room. We already have an assortment of Canadians items to decorate the space but this pillow is cute and priced right.
The NHL Throw:
I bought this throw as a gift and the recipient was quite happy about it. It has a nice soft feel to it and it is quite big for a throw. Guests mentioned how expensive it looked and thought I had bought it at an NHL store.
Too bad Fathers Day has already passed, these would be perfect gifts. Walmart.ca also has other NHL items on clearance sale. Their hats, tukes and gloves are on clearance for just $8. Walmart Canada offers free shipping on all orders over $50, but to get that you would have to buy 10 of these items. Hopefully you live in an area that offers the free Grab & Go lockers. I am in the Greater Toronto Area and that is an option for me. You can also opt to have your purchase delivered to your local Canada Post for free if you prefer.
(Expiry: Unknown)