The Circuit Breaker deal of the day from The Source by Circuit City is worth a mention today. They are offering this Nexxtech wired keyboard and mouse combo for only $14.99, which is half price.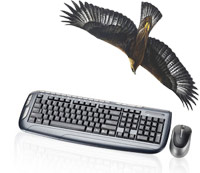 As this is the circuit breaker deal, it will only last for today, Thursday the 12th November 2009, or until it sells out, whichever is the earlier.
I thought it would be a handy backup set for your home office. I actually use a wireless keyboard and mouse, but I keep a spare wired set in case all the batteries explode, or eagles steal my keyboard. If those things ever happen, I will have emergency computer input devices!