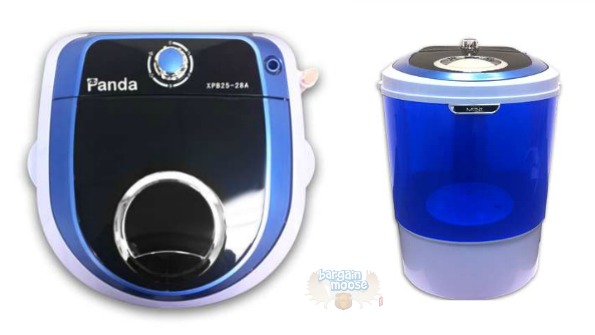 Newegg Canada has some cool things once in a while, but this one takes the cake in my books of functionality and form. Pick up a brand new Panda Portable Mini Compact Countertop Washing Machine Washer for just $99.99 (was $139.99) with free shipping to most urban sprawls around Canada.
I did a little price comparing and I say a little because this unit is not widely available. I found it for $119.99 + $15 shipping from Panda through Amazon.ca. I also found this unit sold on eBay for $89.99 US + $25US shipping = $114.99US, which translates across to approximately $126 CAN with the current exchange rate. More than 1,111 units have sold on eBay so let us just say that this little machine is popular! However, Newegg Canada certainly has the best price.
This is a mini washing machine. It can handle 5.5 lbs of clothing. Just plug it in, fill with laundry, add soap and water, close the lid, and set your timer. There is no spin dry cycle, but ringing clothes out by hand never hurt anyone. Your mini washer will also need access to drainage for the 'drain hose' so a bathtub, sink, or patch of grass (use natural soap please) is necessary.
Here is a review I thought would give you some additional insight:
I tried my compact washer today. It was perfect! I found it's easier to put it in the bathtub, because it has a handle on a back & it can be tilted to fill it with water from bathtub tap. So I didn't use the hose. Rinsing was easy: tilt using a handle, fill it with clean water, 3 min rinse, drain, repeat. It was a bit more noisy when I put it in the bathtub & when I poured more water. Nothing excessive though. Clothes came fresh, clean & surprisingly soft (even without fabric softener.) Only regret I had:"Why didn't I buy this washer long time ago!
This is an alternative to shoveling coins in a laundry mat and sitting atop the washing machine (generally frowned upon) while waiting for your clothes to be washed. This little washing machine may only take mini loads, but over time, it will save you a bundle of not just money but time. I wish I had known about this when I was single and lived on my own... every load of laundry cost me $4 in my building. I would have much rather bought a mini washer and hung my clothes to dry. At least then I would have something to show for my money. This fantastic little washer is also great for dorms, traveling, and camping (if you have electricity).
(Expiry: Unknown)