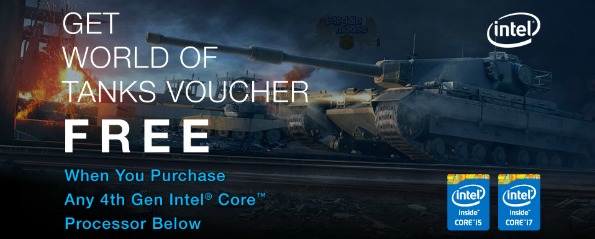 Newegg Canada is giving away a World of Tanks - Enthusiast Promo Paper Voucher with any purchase of an Intel Core processor. The voucher entitles you to download three games free. Intel Core processors start at $149.99 and the free games voucher is worth $49.99.
Processors start at just $149.99 and it makes the most sense to purchase one of the lower priced processors to get the best value out of your freebie. However, if your computer needs more speed than a larger processor might be more advantageous.
With each Intel Core processor purchased, you will receive an Intel Gift - World of Tanks - Enthusiast Promo Paper Voucher. This voucher includes three free game downloads:
World of Tanks
Grid Autosport
Movie Edit Touch
Simply visit the website provided on the voucher and enter in the master key included on your paper voucher.
Going down to basics, the Intel® Core™ i3-4160 Haswell Dual-Core 3.6GHz LGA 1150 54W Desktop Processor Intel® HD Graphics 4400 is your base unit at only $149.99. In many ways, you will get what you pay for as an i3 processor is not the fastest horse out of the gate. However, for those who do not need speed (as a dedicated gaming computer does), this basic unit will do just fine. Enjoy a little Facebook, some Twitter, and the occasional game.
It is a short price step up to an i5 processor. I think it is worth the price as you are getting far better speed out of an i5 than an i3. The Intel® Core™ i5-4440 Haswell Quad-Core 3.1GHz (3.3GHz Turbo) LGA 1150 84W Desktop Processor Intel® HD Graphics 4600 is the most cost effective i5 in the list at $224.99. I checked out reviews for the processor itself and found that it had a near perfect 5/5 egg rating with 30 reviews. One reviewer said:
Great processor for just about everything. From email to gaming this processor is a really good value and will handle most things you throw at it. Also, love how it stays cool and doesn't consume a lot of power. It works just fine with the stock intel cooler, even when gaming.
I think shipping depends upon where you live, but it could just be a flat rate. I tried two different postal codes and they both came up as $8.40 for shipping (of the i5 processor bundle).
You cannot combine this deal with the $25 off $150 coupon mentioned previously.
(Expiry: 16th March 2015)