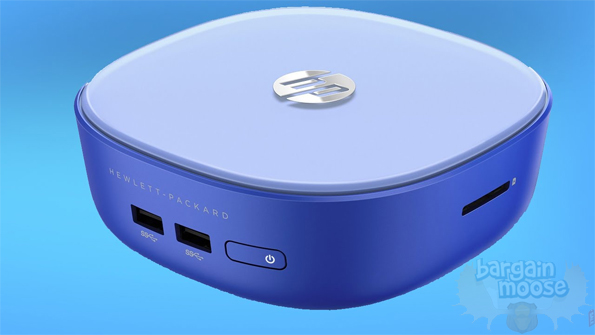 When we write deals here on Bargainmoose, we always try to price compare with similar stores in Canada to make sure you are getting the best bargain. But in this case – I cannot! This deal is for the HP Stream Mini 200-010 Signature Edition Desktop and the Microsoft Store is the online retailer to sell this item online in Canada. You can buy this cute little mini PC for only $179 with free shipping. Read on and I will tell you why this is a deal…
This is a fairly new item and it is not for sale anywhere else online in Canada. If you're buying this item from the US, you're looking at paying at least $179US (plus Canadian shipping, duties, taxes) for it. So with the weak Canadian dollar, it actually works out to be an excellent deal to buy it for $179CA with free shipping from the Canadian Microsoft Store. It's rare to see Canadian prices matched with US prices on electronics like this, so that's what makes this a deal worth writing home about.
Free $25 Windows Store Gift Card
On top of that, you will also get a free Windows store gift card worth $25. This is really handy too, meaning you can buy a few apps (etc) if you need to.
What Is It!?
The HP Stream Mini 200-010 Signature Edition Desktop is a cute little PC. Ten years ago, it would have been incredibly hard to imagine that a computer could be sized and styled like this! While it's a small device, it obviously isn't hugely powerful. Here's a brief idea of the spec:
Intel Celeron 2957U Processor
2GB memory
32GB SSD
Please note that this price is just for the PC, there's no monitor included.
Free OneDrive - 2TB (?), 2 Years
Along with this item, you will also get a free two year subscription to OneDrive, the cloud storage system. This gives you 2TB of online storage to use. Regular users only get 15GB for free when signing up. I am not entirely sure of the value of this service, but looking online just now – it would actually cost $168 for 2 years for a 1TB service on OneDrive! Getting two years for free for 2TB, is excellent.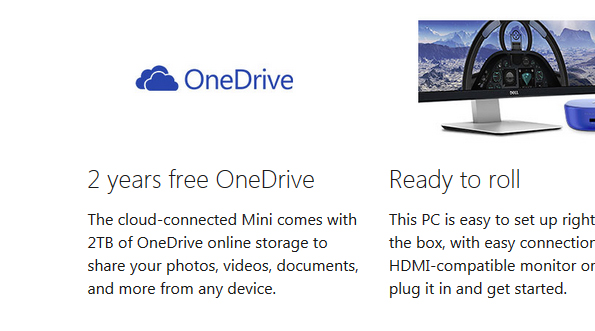 UPDATE - upon reading the comments below, Jack pointed out that he thinks it's only 200GB - this is stated elsewhere on the page. But as you can see from the screenshot above, it states 2TB of OneDrive - there's an error somewhere on the Microsoft end.
Extra 10% Educational Discount
If you are a student or work at a university, it's also possible to get the extra 10% educational discount on this item, bringing it down to around $161. If you don't see this applied at checkout when logged in through your account with the educational discount, then just give their customer services a call and they will arrange it for you. There have been reports that this didn't work as it is too new a product, but also successful reports of the educational discount being applied on this item, so give it a try if you are eligible.
My partner works in a university so I recently took advantage of the educational discount from the Microsoft Store myself. We ordered a new Microsoft Surface Pro and nabbed the 10% discount when doing so.
(Expiry: Unknown)