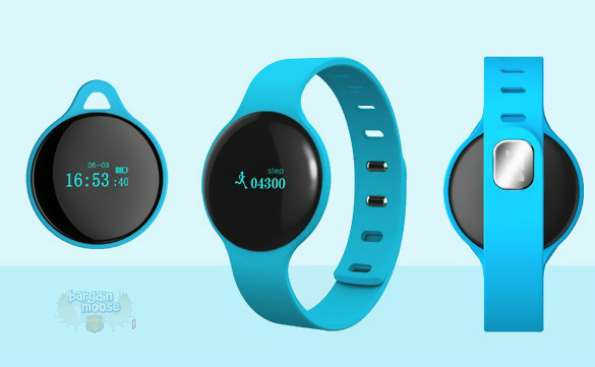 NewFrog.com is a gadget website out of China that offers free international shipping. Right now, they are hosting a pre-April Fools sale with up to 80% off fun gadgets, toys, accessories, and more.
Websites like these are great for buying little items that you do not wish to spend a fortune upon. Do note that all prices are in USD.
Sports bracelets are all the rage right now. From the Fitbit to the Sony watches and more, everyone wants to monitor their steps and their sleep via a watch. If the brand name Sports bracelets are out of your price range, then purchase the New H8 Smart Bluetooth Bracelet Sport Sleep on sale from $54.23 down to $15.44. For compatibility, your phone must have Android 4.3/ IOS 7.0 and above. Choose from blue, orange, black, or green. Here is all the functionality of units five-times the price of the H8.
I can barely resist purchasing two sets of these SKULL HEAD LED Car/Motorcycle Wheel Valve Stem Caps. Originally $3, they are now $1.60. I think these are wicked cool. They will flash while you are driving and turn off when you stop. You can also revolve to switch the LED lamps on and off. These lighted stem caps are suitable for cars, motorcycles, and bicycles. They make your wheels, and thus your vehicle, more visible at night. For all four tires on a car, you would need two of these sets (each set is a pair).
I just adore this Clouds Rainy Pot Wall-hung Flower Pot! The adorable factor is out of this world as it looks like the cloud litterally rains down on your plant when you pour water into it:
Just pour some water into the opening on the top of the cloud form, and 'raindrops' will fall through small holes in its base and onto the plant below. The gentle effect of raindrops is less stressful for the plant than having a torrent of water poured on it from a cup, for example. Indoor plants tend to have weak and shallow roots. 
This is a brilliant idea and looks cute at the same time. Originally $16.44, the pot is on sale for $7.40. Choose from blue or green.
Remember, New Frog ships from out of country. All orders of $20 or less are duty free for Canadians. However, if your order is over $20 then you may be subject to duty upon your package reaching Canada. I have never ordered from this company before so I am unsure whether it is common or not for packages from them to come with duty charges.
(Expiry: Unknown)