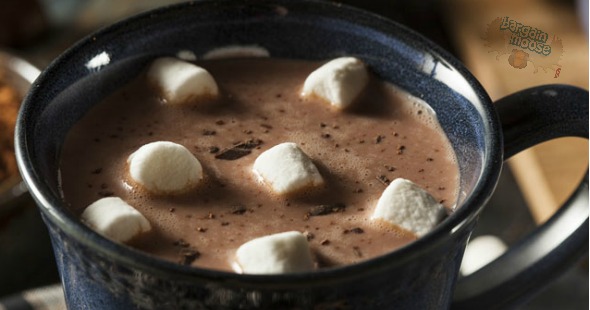 Even though Summer is on the way, the nights can still be pretty cool. If you are still in the mood to cuddle up with a favourite movie and a hot chocolate before bed each night, then this is the deal for you. WagJag Canada has a great offer on the Nestle Hot Chocolate Variety Packs for hot chocolate lovers like myself. While quantities last you can pay just $19 for 2 Nestle Hot Chocolate Variety Packs. Each pack contains 36 sachets and you would normally pay $52.18 for this pair.
Whether you want to cuddle up with a hot cocoa and a good movie, or play board games with the family - hot chocolate is always welcome. I drink at least one hot chocolate a day, so getting savings like this is great. The Nestle Hot Chocolate Variety Packs contain delicious flavours like Aero, Rolo, Coffee Crisp and After Eight. This might be a better way to enjoy the flavour of your favourite chocolate bar. You will get two boxes of the Nestle Hot Chocolate Variety Packs for just $19. Since there will be 72 sachets of hot chocolate in total, that leaves you paying just 26 cents per hot chocolate! That is much cheaper than enjoying a hot chocolate from a Keurig or Tassimo machine.
I also find that making the hot chocolate from a can or sachet doesn't have that metal taste like it does coming from a Keurig or Tassimo brewer. Maybe the sachets don't contain as much aspartame or preservatives. These Nestle Carnation hot chocolates have to be my favourite out of any other hot chocolate brand anyway. I usually fill my mug with 3 heaping teaspoons of the hot chocolate (or one sachet) and then stir in a little milk. Once the hot chocolate is like a paste, I add the boiling water. This makes for some absolutely delicious hot chocolate froth.
There are some fine print details with this WagJag offer though. The product will not ship until after the deal closes, so you can expect for your purchase to arrive around April 8th. There is also an additional $7 shipping fee, and this offer cannot be delivered to PO boxes. You can purchase as many of this offer as you like, but each one will acquire a $7 shipping charge. The hot chocolate itself will expire on the 31st of July 2015.
(Expiry: 8th April 2015)